BRIDGETOWN, Barbados, CMC – Estranged West Indies batsman Chris Gayle has turned down the Somerset Twenty20 contract in order to make himself available for the limited overs phase of West Indies' tour of England next month.
In a statement issued through the West Indies Players Association late Wednesday, the former West Indies captain said he had written to the English County to indicate his unavailability and was now free to represent the Windies "in all forms of cricket".
His move follows a Tuesday teleconference meeting with West Indies Cricket Board officials and selectors, to discuss his future.
"I have now satisfied all of the requests of the WICB and their selection panel, with whom I met via teleconference yesterday, and to whom I reiterated previous assurances given to the Board regarding my availability," Gayle said.
"So that there is no doubt, I confirmed to the selectors that I was available for West Indies duty in all forms of cricket, immediately following the conclusion of my contractual obligations to my IPL (Indian Premier League) franchise, Royal Challengers Bangalore."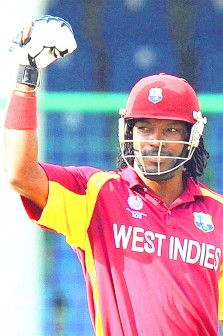 The IPL finishes May 28 while the limited overs series in England bowls off June 16-24, and includes three One-Day Internationals and one T20 International.
However, the English T20 domestic championship would have clashed with the tour.
The latest move is likely to see Gayle don West Indies colours for the first time in more than a year, following a protracted dispute with the WICB.
A CARICOM-brokered deal last month seemed to have healed the rift but the controversy flared up again last week, putting Gayle's participation in the upcoming limited overs tour in jeopardy.
He was accused by the WICB of "reneging" on his commitment to forego the Somerset deal, after he wrote the Board requesting guarantees about his selection so he could give the English County an answer on his availability.
On Wednesday, however, Gayle reaffirmed his commitment to West Indies cricket and said the decision to pull out of the Somerset deal was done in the interest of the regional game.
"I have written to Somerset CC and advised them that I will not be honouring the commitment I made to them when I signed a contract with them for the 2012 Friends Provident Championship," Gayle said.
"I made it clear to them that my decision was made because of my commitment to West Indies cricket and to West Indies cricket fans, and because: '…I believe that it is time for the WICB to make a decision which will provide a clearer view of my own future.'"
He added: "I understand that by making this decision, it may place me in a position of considerable risk, since I am foregoing a signed contract, without any guarantees whatsoever, with only the hope that I will be selected to play for the West Indies again."
In his absence from West Indies duty, Gayle has plied his trade in the various T20 leagues on the international circuit, turning out in the Zimbabwe domestic championship, Australia's Big Bash, the Bangladesh Premier League, South Africa's T20 tournament and the IPL.
He is currently the leading run-getter in the IPL with 407 runs and has mustered four half-centuries in his last five innings.
Gayle said he was now looking forward to returning to the West Indies side.
"This has been a difficult time, and I wish to sincerely thank everyone who has supported me, my family and friends, and in particular cricket fans worldwide who have continued to show appreciation for me wherever I have played," he said.
"I look forward to once again putting on the maroon, and resuming my international career and my service to West Indies cricket."
Gayle has been West Indies' most successful opener in the last decade. He has accumulated 6373 runs in 91 Tests at an average of 41 and scored 8087 runs from 228 ODIs at an average of 39.
He is one of just four players in history to score two Test triple centuries in a career.
Following the England tour, West Indies return to the Caribbean to face New Zealand in two Tests and five ODIs from June 30 to August 6.
Around the Web