LONDON, England, CMC – Experienced batsman Ramnaresh Sarwan has brushed aside suggestions of a late call-up to the West Indies team for the current tour of England.
The right-hander is one of a few key players missing for the three-Test tour starting later this month, with opener Chris Gayle and all-rounder Dwayne Bravo also missing.
Sarwan, who is currently contracted to Leicestershire for the full Championship season, says his focus is on scoring runs and helping the English county excel.
"I do [still have ambitions of playing for West Indies] but at the moment I'm not thinking about that," Sarwan said in a recent interview here.
"They have a tour here but I've signed a contract to play a full season so I don't know … for me I just want to concentrate on playing cricket.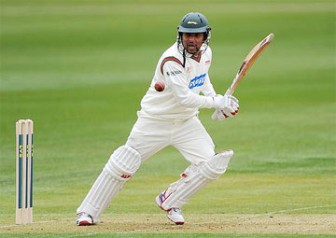 "I was out for about eight months and I didn't play any cricket so I think this is an opportunity for me to find my feet and try and score as many runs as I can."
The 31-year-old is one of the Windies' most seasoned campaigners but has not played for the regional side since the second Test against India in the Caribbean last July.
He has been beset by injury, a situation that also ruled him out of selection for recent Guyana squads.
Sarwan has quickly found form for Leicestershire in the County season, striking 105 against Derbyshire last month, and said he was hoping to extend his good patch.
"I've had quite a few starts. Unfortunately, I didn't convert a couple but nevertheless I'm pretty happy," said Sarwan, who has tallied 5842 from 87 Tests at an average of 40.
"It's early in the season and it's quite difficult to bat so it takes a lot of concentration and shot selection. Hopefully I'll be able to continue and get some big scores."
He continued: "I think I've done well over the years. Obviously I'm here now playing for Leicestershire and hopefully I'll have a successful season and hopefully the club will be able to do well."
Sarwan was chosen to lead Leicestershire in their last few games, after regular skipper Matthew Hoggard was ruled out with injury.
And the former Guyana and West Indies captain says he has enjoyed the experience, despite being thrust into the new role.
"I've done it for a bit for Guyana and West Indies so it's something I'm quite used to and for the moment I'm enjoying it. Unfortunately, Hoggy (Hoggard) got injured and hopefully he has a speedy recovery and is back soon," Sarwan said.
"When I came here I just came as an overseas player, an ordinary player. There was nothing about me being captain as such. It's a bunch of young guys and obviously I will try and help them the best way I can and so far it's been good playing with them and captaining them."
Around the Web