LOS ANGELES,  (Reuters) – Battling for their NBA playoff lives, the Denver Nuggets needed no extra motivation to give the Los Angeles Lakers the fight of their lives in Game Five. Andrew Bynum gave it to them anyway.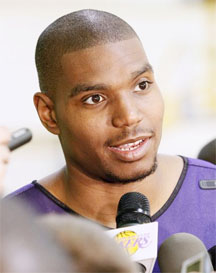 With Los Angeles leading 3-1 in the best-of-seven series, Lakers center Bynum told reporters during Monday practice that: "Closeout games are actually kind of easy."
His words would return to haunt him a day later as the fired-up Nuggets stunned the Lakers with a 102-99 win at Staples' Center to keep the series alive.
Though Bynum had gone on to explain that a fast start made such games easy to win, Nuggets coach George Karl decided to use only the first part as a bulletin board incentive in his team's locker room.
The sixth-seeded Nuggets came out all guns blazing and outshot the Lakers over the first three quarters before holding off a Kobe Bryant-inspired fightback.
"In general, I think he's wrong," Karl said of Bynum's statement. "I've been blessed to win a few series, and it's hard to win the next game, and it's the hardest thing in the world to win the fourth game.
"I don't care who you're playing, it's hard.
"His feeling on closeouts is a little different than my history of being in them so I told my players that."
Nuggets guard Ty Lawson smiled when asked how much incentive Bynum had inadvertently given the Denver team.
"I guess it's not that easy (to win closeout games) because we obviously won this game," grinned Lawson, who had nine points and eight assists. "We definitely took those quotes to heart and the team played that much harder because he said that."
Lakers All Star Bryant could see both sides.
"That's true, closeouts can be easy," the five-times NBA champion said. "But tonight wasn't one of those nights.
"Did it pump them up? Probably. Would they have come out and played with that kind of energy anyway? Probably.
"We didn't execute. They obviously played harder than we did so it's a lesson to learn.
"You never want to give anybody bulletin board material, but if you're going to be a champion, you've got to play through stuff like that."
The Western Conference quarter-final series shifts to the high altitude of Denver for Game Six today.
Around the Web