One of the greatest fears of a professional athlete is becoming injured. To an athlete, suffering a career-threatening injury is like a lawyer being disbarred, a doctor losing his license or an engineer losing his competency or a journalist losing his credibility.
It can be physically painful as well as psychologically grueling and very few athletes are able to return to glory, much less surpass where they once were after suffering a serious injury. But despite the unfavourable odds, the cynical critics and towering hurdles, Nicolette Fernandes can almost savour the sweet taste of success as she aims towards the top this season.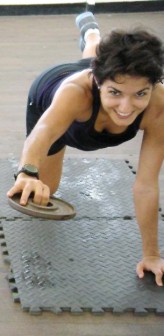 The former world number 27 ranked player is less than two months away from the start of her next profession season on the Women's International Squash Players Association (WISPA) and is teeming with confidence after a dramatic career and character testing experience.  Over the past 10 months, Fernandes experienced the agony of yet another career-threatening injury, the pain of staying away from squash as part of her injury rehabilitation and the elation of winning her second professional tournament.
The 29-year-old Caribbean squash queen was diagnosed with tendonitis in her shoulder at the beginning of her squash season during the final quarter of 2011. Nicolette, who had suffered from a mal-tracking patella in 2007 which caused her ranking to plummet more than 200 spots down from her career high 27, began the 2011 season back in the top 50.
The six-time junior Caribbean champion was in top shape and placed second in the WISPA Phoenix Open, but that success was short lived as the shoulder injury slowly crept up on her. Close to two weeks after, at the Pan American Games in Mexico, Nicolette's injury worsened and after taking an MRI her doctors concurred that she had tendonitis and had to prematurely end her season.
"The doctors told me to stop playing squash completely. To say that I was really disappointed is a gross understatement," Nicolette said.
The South American Games squash gold medalist found herself sidelined with injury from the sport she loved and invested her life into for the second time in five years. But this time was different. This time, she was going to come out better than ever.
"I came out of the injury stronger than I had ever been. I just told myself that I was going to make this injury the best thing that has ever happened to me," Nicolette said.
But getting there was no easy task physically and psychologically for the Medal of Service recipient. Not being able to play squash was not only psychologically draining, but to Nicolette, it meant that other players were improving, competing and gaining experience while she was nursing her injury. But being Nicolette Fernandes, she simply could not be left behind.
It was her resolve to work on every aspect of her game that did not involve her swing and the use of her shoulder. Most naturally fitness, a very important aspect of a squash player's game, became a key area of focus for the former Central American and Caribbean (CAC) champion. Motivated by local fitness specialist Kezqweyah Yisrael, whose workouts she said has helped changed her life, Nicolette toiled on a daily basis to skyrocket her physical athletic capabilities.
A group of persons, who she referred to as her team, worked with her every step of the way to help her get healthy. According to the Pan Am medalist, the contributions of those persons to her comeback were immeasurable. Her long-time coach Carl Ince, nutritionist Royston Booker, physiotherapist Beverly Nelson were all part of her team along with John Campbell, Kathy Paul, Nicholas Narain and Lee Fung-A-Fat.
"It was not an individual effort at all. Those and some  other persons supported me and helped me to get through it," an emotional Nicolette said.
As she explained it, "Everyone has their setbacks in life and I'm not different. It's just that my setbacks are more documented," said Nicolette whose ranking had dropped to 76 after the injury. Fernades says that everyone deals with their setbacks differently, but at the end of the 2011-2012 squash season she shrugged off those setbacks and played performed like a champion.
She  managed to win her first tournament back on the WISPA circuit last month in Guatemala, which was the Cinderella ending that she was hoping for after such grueling experiences. The win in Guatemala was just her second WISPA career tournament win and shortly after she made it to the semifinal round in Mexico in her final WISPA season event.
Now, Fernandes said that her entire mentality has changed and she is pumped and ready to get back on tour to see the fruits of all the hard work and time that she has invested behind her career in squash. The enthused national squash champion said that she is focused on getting far beyond her previous peak of 27 and is not too worried about her current rank as it is just before her rigorous training helps her realize her desired success.
Around the Web