Guyana women hockey players went down to tournament favourites Canada 10-0 suffering their second defeat in as many days at round one in the  World League at the Natonal Hockey Centre in Tarcarigua in Trinidad. The Canadians led 3-0 at half time. No individual scorers were available.
The Guyana had suffered a 5-0 defeat against CAC champion and host Trinidad and Tobago in their opening match Sunday and have now conceded 15 goals in two games.
Canada have now scored 22 goals in their two encounter and look set to come out winners of the tournament with the only threats being Trinidad and Tobago and Uraguay.
Guyana's  coach Philip Fernandes  said he was pleased with the team's performance against the Trinidadians.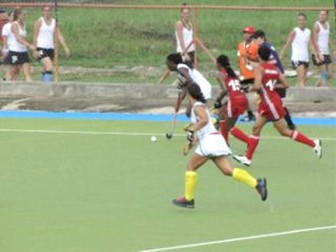 He said four of the five  goals came from set  plays by  their opponents.
Fernandes said the team held its own for the first ten minutes of play before the Trinidadians scored their first goal in comments after Sunday's encounter..
The Guyanese now play Uruguay in their next match tomorrow at 11;00 hours before meeting with Barbados on Thursday and Venezuela on Saturday.
Guyana went down to Uruguay when they last met in the final of the Pan American Challenge in Brazil two years ago.
They face an uphill task to be among the top three teams advancing  to the second round of the World Cup qualification series.
The six teams are competing in a round robin tournament leading up to the World Cup in 2014 in Netherlands.
Comments

A resurgent Guyana Amazon Warriors side completed a comprehensive seven wickets victory over the out-of-sorts St Lucia Stars to cruise to their second consecutive home win in the Caribbean Premier League (CPL) at the Guyana National Stadium, Providence, last evening.

BARCELONA,  (Reuters) – Barcelona are suing Neymar for 8.5 million euros ($10.00 million) for breach of contract as they want him to return the bonus he was paid when he signed a new five-year deal just nine months before joining Paris St Germain, the Spanish club said yesterday.
(Reuters) – Cristiano Ronaldo will have to serve his five-match ban for pushing a referee after the Spanish sports court (TAD) rejected Real Madrid's appeal against the length of the suspension, Spanish media reported yesterday citing court officials.

A 90th+3 minute strike secured Western Tigers a 1-1 draw with Georgetown Football Club (GFC), when the Corona Beer Invitational Football Championship continued on Monday at the GFC ground, Bourda.

Despite concluding the CONCACAF u15 Boys Championship with only one victory from four matches, Guyana Football Federation (GFF) President Wayne Forde said, he is delighted with the team's overall performance.