By Iva Wharton
Alpha United President Odinga Lumumba on Saturday began his crusade to bring an end to the impasse between the Georgetown Football Federation (GFA) and the Georgetown Football Association (GFA) by signing a petition signaling the start of the drive to end the impasse.
"I have noticed that since I have made the statement last week that the newspapers have been very active with news from various persons who have also shown an interest in bringing a speedy resolution to the impasse," said Lumumba.
The petition, he said, calls for members of the football fraternity to join with him to put pressure on the GFF and the GFA to bring a resolution of this impasse by December 31.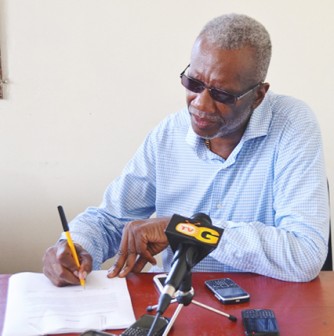 "Failing that we will form a national rescue committee of representatives of all the regions and we will put forward a plan and an agenda to FIFA and seek FIFA's approval for this new body to manage and administer football in Guyana.
"I will not continue to be part of this confusion beyond the first week of 2013, there must be an end," he added.
He reiterated that should the two parties fail to mend fences then a third party must step in.
"I am willing to go up front and ask the hundreds of thousands of Guyanese people who care about football and care about this country to join me. I will be sending this petition throughout Guyana and we are going to try and get at least 10, 000 signatures and at that point we will forward the petition to FIFA."
Lumumba said a letter has been dispatched to FIFA informing the body of the steps that he is willing to take and to seek their support in finding a resolution.
"I am also calling for private companies like AnsaMcAl and Banks DIH to come together as one and also to put pressure both of these organisations so that they can bring unity in this country. I also want them to sign this petition as well because this situation is unhealthy for everybody including the companies and the young men who will suffer because of this disaster."
The petition reads: "We, the members of the football fraternity in Guyana, spearheaded by Odinga Lumumba, are calling for a speedy resolution to the impasse between the Guyana Football Federation and the Georgetown Football Association. The impasse has not only impacted negatively on the development of football in Guyana, but also painted a far from impressive picture of our football administrators' ability to compromise and lead. This petition embraces the will of the concerned members of the football fraternity in Guyana who believe that after two years of wrangling, sport deserves better. We hereby petition the Guyana Football Federation and the Georgetown Football Association to resolve their differences which would lead to an improvement of football in Guyana. By signing this petition, we call on the two parties to reach a solution on or before December 31st, 2010 or we will be forced to create a third alliance in the interest of and development of football. We will continue to update FIFA, CONCACAF and the Caribbean Football Union on developments related to this issue.
Comments

Guyana Amazon Warriors completed a last over four- wicket victory over the Barbados Tridents to keep their chances of qualifying for the playoffs alive in this edition of the Caribbean Premier League (CPL) on the back of opener, Chadwick Walton at the Guyana National Stadium, Providence, last evening.

LONDON, CMC – West Indies part-time off-spinner Kraigg Brathwaite has been reported to the International Cricket Council for having a suspect bowling action, following the Caribbean side's humbling innings and 209-run defeat at Edgbaston here Saturday.

BIRMINGHAM, England,  CMC – Under-fire West Indies captain Jason Holder has urged his players not to lose confidence despite their embarrassing innings defeat inside three days in the day/night opening Test at Edgbaston.
(Reuters) – Spanish fourth seed Garbine Muguruza played flawlessly to crush Simona Halep 6-1 6-0 in a one-sided women's final at the Cincinnati Open yesterday.

Future Stars continued their meteoric rise on the 'street football circuit', defeating Back Circle 1-0 to clinch the 3rd Annual Xtra Beer 'Ballers in the Summer' Street Football Championship on Saturday.