Hi Everyone, My mom makes a mean (really good) shrimp cake. It is a labour of love that we all appreciated as children. Actually, just the other day my brother messaged me asking if I remember what a "bad" shrimp cake mommy used to make. He went on to tell me that he was making some and that his eldest daughter was, "lashing it up."
It is clear that the thought of shrimp cakes must have been in the air because on my schedule of topics for my columns in September were two words: shrimp cakes.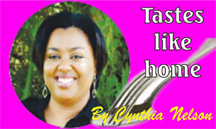 My mom's shrimp cakes are made with the white-belly shrimp that is so plentiful in Guyana. The shrimp would be cleaned, pat dry and then flash fried on very high heat for no more than a minute. Mommy would then sit on the floor, legs crossed in front of the lorha and sil all set to grind the shrimp. There would be two large bowls, one on either side of the lorha and sil. In the bowl on the right would be the fried shrimp; the bowl on the left would be empty waiting for the ground shrimp. There would be a small bowl with a couple cloves of garlic, several wiri-wiri peppers or a large scotch bonnet pepper along with some chopped celery – all these ingredients were to be ground as well to mix with the shrimp for the cakes.
Once everything was ground up, she would mix in some mashed potatoes, thinly sliced green onions, salt to taste and an egg to bind it all. The mixture was then formed into balls then patted flat – a little less than ½-inch thick, the shrimp cakes were lightly dusted with flour and be pan-fried. These were served on the side with Cook-Up Rice. Or sometimes, mommy would make the shrimp cakes and then make a little tomato-onion sauce for us to eat with the shrimp cakes and plain rice. Delicious. It always felt like a treat when mommy made shrimp cakes because of the amount of work involved. Of course in those days it was unheard of to buy shrimp already "picked" (cleaned), so of course there would be the cleaning of the shrimp involved in the shrimp cake-making.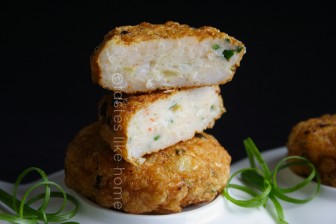 Well a few weeks ago I had a yearning for mommy's shrimp cakes and while I didn't have to bother myself with the cleaning of shrimp, I wanted to make my fishcakes without par-cooking the shrimp first. Secondly, I had no desire to grind the shrimp, raw or cooked, by hand. I was looking for quick and easy.
Out came the food processor; in went some grated garlic, pepper, fresh coriander (cilantro) and the shrimp. Pulsed to a coarse paste, I then dumped the contents into a large bowl, added some sliced green onions (scallions), an egg, fresh breadcrumbs and salt. I mixed it all together, formed them into patties and pan-fried then sans a dusting of flour.
My shrimp cakes were compact, hearty and tasty. They were different. They were definitely not my mother's shrimp cakes. Were my mother's shrimp cakes better than mine or vice versa? No. They were just different and it would all come down to an individual taste and a matter of preference. I love my mom's shrimp cakes; they are lighter and creamier because of the addition of mashed potatoes and the partial cooking of the shrimp before being ground up.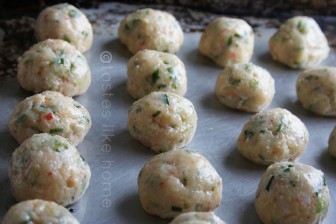 Don't get me wrong, I like my shrimp cakes too. Actually, I am excited by my shrimp cake mix because it offers a number of options for cooking. For example, I can make little shrimp balls as appetizers, I can make larger balls and toss them into a soup. Or I can steam the balls and serve them as is with soy sauce or a sweet-pepper sauce. I can use the paste as stuffing in sweet peppers, caraila (bitter melon), and okra – steamed or pan-fried. So you see? Even in my waywardness, I've discovered other ways in which I can use my shrimp cake mix.
So here's the deal, I invite you to make both shrimp cakes and tell me what you think.
Mom's Shrimp Cakes
Yield: 10 – 12
INGREDIENTS
1 pound cleaned white-belly shrimp
2 tablespoons oil
2 cloves garlic
1 tablespoon chopped celery
Chopped hot pepper to taste
¾ cup mashed potatoes
3 tablespoons thinly sliced green onions (white and green parts)
Salt to taste
1 egg, room temperature
½ cup all purpose flour
Oil for shallow pan-frying
DIRECTIONS
1.  Pat the shrimp as dry as possible.
2.  Add oil to a shallow frying pan and heat until smoking hot.
3.  Toss the shrimp into the pan and spread in an even layer; let fry for exactly 1 minute without turning or tossing the shrimp. Transfer shrimp to a bowl.
4.  When cool enough of handle, grind shrimp to a coarse paste – using a lorha and sil or a food processor.
5.  Grind garlic, celery and pepper to a fine paste.
6.  Add ground shrimp, garlic-celery-pepper paste, potatoes, green onions and salt to a large bowl and mix well.
7.  Add and mix in egg.
8.  Take a little of the mixture – about 3 tablespoons – form into a ball and then press gently between your palms and form a little patty and place on a large plate or platter. Repeat until all the mixture is used up.
9.  Add oil to a frying pan for shallow frying and heat on medium heat.
10.  Lightly dust shrimp cakes with flour and fry in batches, do not overcrowd the pan. Fry on one side for 90 seconds or until brown, flip and fry for a minute; drain on paper towels.
Cynthia's Shrimp Cakes
Yield: 8 – 10
INGREDIENTS
2 teaspoons chopped garlic
Minced hot pepper to taste
1 pound white-belly shrimp
1 cup fresh breadcrumbs
½ cup thinly sliced green onions
Salt to taste
1 egg, room temperature
Oil for shallow panfrying
DIRECTIONS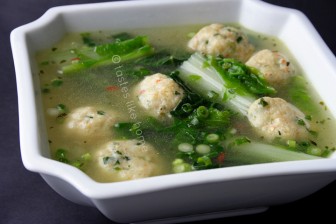 1.  Add garlic and pepper to the bowl of a food processer and pulse a few times then add shrimp to food processor and pulse to a coarse paste (it will be sticky). You will need to scrape down the sides of the bowl a couple of times to get everything mixed.
2.  Transfer the shrimp mixture to a large bowl and add the bread crumbs, green onions and salt. Mix well.
3.  Add cracked egg and mix well to incorporate.
4.  Lightly oil a baking sheet or large plate and set aside.
5.  Rub some oil on your hands and take some of the mixture – 3 to 4 tablespoons and form into balls then press gently between the palms of your hands. Transfer to oiled pan or sheet; repeat until all the mixture is formed. You may need to oil your hands in between making the patties.
6.  Let the mixture rest for 10 minutes, this is so that the ingredients can meld and set.
7.  Add oil to pan and heat on medium high heat; fry shrimp cakes in batches, be careful not to overcrowd pan. Fry on one side for 1 minute or until brown, flip and cook for another 30 seconds.
8.  Drain on paper towels.
Cynthia
Around the Web