(Video) Mittelholzer memorial lecture
Mittelholzer memorial lecture: Writer Pauline Melville delivering the 2012 Edgar Mittelholzer Memorial Lecture yesterday afternoon at the Umana Yana. The lecture was entitled `Guyanese Literature, Magic Realism and the South American Connection'. The Mittelholzer Memorial lecture Series was instituted in 1967.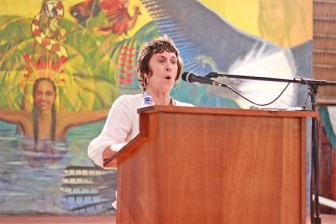 Writing in the last Sunday Stabroek, columnist Al Creighton said of Mittelholzer "Not only is he one of the most recognized Guyanese writers, but the nation accords him a most distinguished place in its literature and heritage.  He is regarded with some awe arising from the power and character of his fiction, but also because of his association with the country's older colonial heritage, with the supernatural, and with writing as a career/profession."
Melville who was born in Guyana is an acclaimed writer. Her first book Shape-Shifter, a collection of short stories won the Commonwealth Writers Prize and her first novel The Ventriloquist's Tale  won the Whitbread First Novel Award.