Ken Peters has spent the last nine years or so working as one of the leading agents for Caribbean Container Inc (CCI), a local company that operates an integrated paper recycling and corrugated box manufacturing entity at Farm, East Bank Demerara.
In the process, he appears to have found much satisfaction in his role as one of the city's better-known suppliers of used corrugated cartons to CCI and it is a role he will continue to play despite the difficulties he sometimes faces.
Peters says he will probably be better remembered for the collection depot which, up until a few months ago, he ran from premises on Wellington Street, between Charlotte Street and South Road. If you happened to go by the depot, you were more than likely to see the trademark piles of flattened corrugated cartons or to catch a glimpse of Peters 'reasoning' with a supplier; often a junkie who would sometimes employ decidedly Dickensian negotiating  methods aimed at extracting the best prices for their product.
The cardboard would have to be weighed in order that an appropriate price could be arrived at and Peters says it was necessary to check consignments carefully for "large bricks or pieces of metal" strategically concealed among the cartons to "bump up" the weight. And if you allowed your attention to be distracted for a brief moment, he says, you might miss the supplier's foot on the scale adding weight and, by extension, value, to the consignment.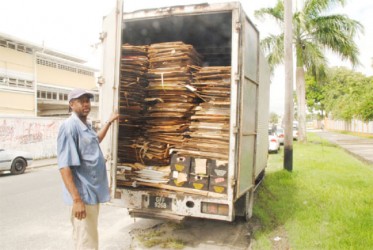 Ken Peters is a practical man. He understands the nature of the trade and the need to be vigilant.
The Wellington Street operation is a thing of the past. The premises, long dilapidated and falling apart, was dismantled. Peters has now turned his attention to the much more arduous pursuit of picking up cartons and paper in his truck and delivering them directly to CCI's Waste Paper Department.
An engaging, likeable man, Peters talks about the downside of not having premises of his own. He must pick up cartons from business premises in the city, a pursuit that exposes him to overzealous traffic policemen. It is, he says, much like the days when his Wellington Street premises was constantly monitored by City Hall officials to ensure that his piles of flattened cartons did not either become an encumbrance or were left to become mountains of garbage.
Over the years, Peters has refined his operations by creating 'strategic alliances' with an assortment of junkies and garbage collectors. Piles of cartons would be left at 'safe spots' for him to collect. Sometimes too, his phone number having been considerably 'put about,' he would receive calls from downtown merchants advising him of the imminent availability of a consignment of cartons. He would then have to show up with his truck to take the consignment away the moment it became available.
One might expect that city merchants would see Peters as someone providing a service, but he says that is not necessarily always the case. Sometimes, he says, having dumped the cartons outside their premises, businessmen would demand that Peters remove their other garbage – plastics etc – along with the waste cartons, or else, leave the cartons alone.
It is, he says, an issue of sensitisation. "There are two problems here. The first problem is that there are people who don't understand the work we do and they see us as glorified junkies. The other issue is that people are not sensitised. If the policemen and the businessmen could understand that we are providing an environmental service while making a living for ourselves they would understand how to deal with us," Peters says.
For all its difficulties, though, Peters says his business offers "a reasonably good living". These days, he makes perhaps two trips per week to CCI's Farm operations as against the daily trips which he used to make during the days of his Wellington Street operations. Still, he believes that more environmental education coupled with increased volumes of imports arriving in Guyana in cartons enhances his prospects.
In the meantime, Ken Peters says he is prepared to "wait out" the tough times and "take the rough with the smooth."
Around the Web