In the weeks leading to the beginning of the new school year the pressures of parenthood are as much in evidence as the business of trading.
Time was when outfitting children for the new school year was a simple routine. Parents, by and large, made the choices and the children complied; not necessarily without murmur, but without any visible sign of protest.
These days, there is evidence of a paradigm shift in many parent/child relationships. The child, all too frequently, calls the shots,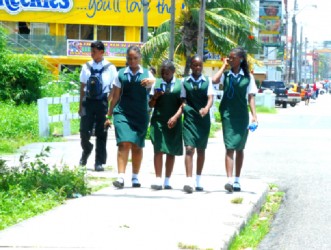 the parent complying, frequently under pressure. It has become a way of life, year in, year out, except of course, these days, an increasing number of parents are groaning under the financial burden.
Iola says that the months between June and September are difficult ones for her. That is the period during which she accumulates money to equip her two teenaged sons for the new school year. During that period, half of her wages is consigned to two separate 'box hands'. The timing of the disbursements allows her to receive two consecutive 'hands' during the second and the fourth weeks in August. It is a finely balanced calculation. She couldn't afford to send them to school otherwise.
Iola is a widow with two teenaged sons. Her husband died of malaria six years ago. The boys were in primary school at the time and her husband made enough money to allow her to be a stay-at-home mother. After he died she went to work as an Office Assistant with a private firm. Her sons are impressionable teenagers who are converts of the practice of keeping up with the Joneses; and every year Iola has had to keep up with her sons. They hanker after brand-name shoes and high-priced haversacks. Iola manifestly cannot afford to feed her sons' habits. Still, she does it at considerable sacrifice.
When we asked her what it had cost her to send her sons back to school at the start of the academic year she gave a quizzical look. Once it dawned on her that we really wanted to know, she began to make a mental calculation. Three pairs of uniforms (shirts and trousers) each had cost $10,000. Shoes – by no means the most expensive ones of the market, she says – had cost $8,000 each and two haversacks had set her back $2,500. Beside those she had spent another few thousand dollars buying things like underwear and stationery. Eventually, she rounded it up to "around $50,000". That money, she said, was acquired on account of much cutting and contriving. This year she was pleased that once again she had managed to find the money.
Apart from scouting the city for the best bargains; items that bore a semblance of quality on the one hand and modest in price on the other, she had, over time negotiated a special cut price with a tailor to sew their trousers.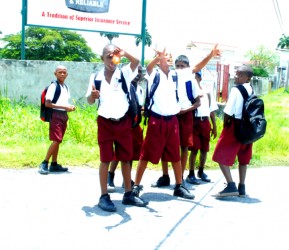 Iola laments that "times have changed" and that school uniforms must now no longer be merely functional; they must be fashionable. Brand name footwear has become the order of the day. She frets too over the fact that she does not benefit from the cost-saving associated with giving her children a cooked midday meal to take with them to school. Her boys, she says, apart from having a decided preference for lunch money, are dead set against taking meals to school. Apparently, it is not a popular practice with their particular circle of friends. That means she must find $400 each per school day. Sometimes she cannot find it and on those days they prefer to deny themselves the midday meal.
This newspaper has found that there is no shortage of Iolas in Guyana.
The period preceding the beginning of the school year can be a time of great anxiety and the frenzied shopping spree that is usually in evidence in the city around that time disguises what, in many instances, are myriad cases of frustration and, as the opening day of school draws closer, panic.
We met a taxi driver who said that he had spent around $100,000 to send his three children back to school. The figure sounded exorbitant but we didn't question it. We surmised that perhaps he is one of those parents who favour brand-name apparel. He told us that he usually starts buying several months ahead.
He told us a story about being let down by the seamstress contracted to sew his daughter's uniforms, then, like Iola he fretted about having to find lunch money. When we met him earlier this week the taxi driver was seeking to secure additional school requirements that were only made known to his children at the beginning of the school year.
Patto told us that books for his fourth form daughter had cost him around $20,000. She attends a private school and he too is a taxi driver. The school has a barter system which allows you to trade in your previous year's books for new ones. Lunch, he says, costs him $1,500 per day.
School may have re-started on Monday but during the week there was still evidence of shopping. Maxine, a single parent with two children explained that the late shopping was a function of "when de money come in." She told us that she had had the devil's own job getting her daughter to wear last year's school shoes during this week even though she had assured her that it would be a short-term measure,  When we met her she was trying to secure the promised new pair of shoes. She had been given a deadline of the end of the day.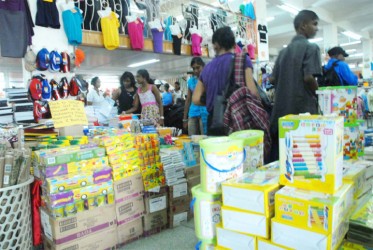 The vendors in the downtown arcades explained the back-to-school phenomenon to us. As vendors they knew to wait out the battle between parent and child over choice knowing only too well that mostly, the child would win.  That knowledge of the likely outcome influenced what the vendors stocked. They had to have a few of the cheaper brands of shoes and haversacks to encourage parents to stop in the first place. Once the battles became enjoined, however, they prepared to bring out the brand-name stuff.
This year, on the whole, prices on school supplies rose by between five and twelve per cent, depending on the item. In the case of training shoes the increases were steeper since the schoolchildren are not the only ones in that particular market. There may also have been further price hikes resulting from a markedly lesser evidence of the cheap photocopied text books this year.
At least we discerned from our enquiries that most parents felt it was worth the while. Most of them were working class mothers who espoused the view that it was their duty to do better for their children than their own parents did for them. Still, it was difficult not to take account of the enormous financial pressures and of the fact that these days, the children call the shots.
Around the Web