President Donald Ramotar has conceded that there has been a decline in the performance of the manufacturing sector, pointing to the continual fall in the sector's contribution to the country's Gross Domestic Product (GDP) over the years.
In a brief address at Wednesday night's gala dinner at the Pegasus Hotel to mark the 50th Anniversary of the creation of the Guyana Manufacturing & Services Association (GMSA), the President conceded that manufacturing, these days, was on virtual 'life support'. However, some guests noted, the President made no mention of any plans the government might have to try to turn the ailing sector around.
Wednesday evening turned out to be a night of mostly reminiscences as neither President Ramotar not GMSA President Clinton Williams could find anything particularly salutary to say about the contemporary performance of the sector. "Over the years, we have seen as a percentage of GDP, it has not grown.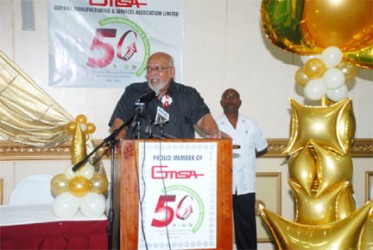 In fact, it has fallen in some ways," Ramotar told an audience that included Prime Minister Samuel Hinds, US Ambassador to Guyana Brent Hardt and several members of the local business community.
Arguably, the key pronouncement by President Ramotar in his brief presentation was the recommendation that local commercial banks contemplate investing excess liquidity in the sector.
He said the manufacturing sector still had "scope for bigger investment". The commercial banking sector, however, has so far declined to go in this direction on its own volition.
In his address, Williams chose to reflect on a time when foreign exchange constraints and restrictions on imports had galvanised the local manufacturing sector into a period on ingenuity that had resulted in the creation of various types of appropriate technology.
Little mention was made in any of the major presentations of the impact the sustained underperformance of the country's electricity company has had on the manufacturing sector. Some guests listening to the presentations could be heard wondering out loud what lies in store for manufacturing in the future in circumstances where the pursuit of viable options to the service currently being offered by the Guyana Power and Light Company (GPL) is still as one guest put it "up in the air."
Private sector officials have, in recent years, been seeking to prod government in the direction of creating a development bank to support the local private sector.
One-time GMSA president and serving board member Ramesh Dookhoo pointed to the role which the former Guyana Agricultural and Industrial Development Bank (GAIBANK) had played in energising the manufacturing sector asserting that the focus of the GMSA is on having a development bank in place.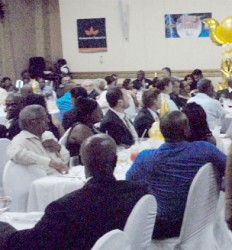 Around the Web