The jury may still be out on the health and nutritional issues that attend the proliferation of international food franchises in developing countries, but those considerations are doing little to deter Guyanese investors. Aggressive international marketing driven by television and, more recently, accelerated internet penetration in developing countries, continues to bring international food franchises to the doorsteps of countries like Guyana. Add to that increased travel, more disposable income and impressionable eating habits and it is not difficult to determine why, today, there are probably as many as a dozen food foreign franchise brands in Guyana.
Alfro Alphonso & Sons, one of the more diversified business enterprises in Guyana is the latest local company to take the plunge into international eating franchises. Already involved in gold mining, fish processing and export, marketing of bottled water, coconut oil manufacture and electronic media, the enterprise last month launched Georgetown's newest food franchise – 704 Food and Entertainment Complex – in a newly constructed four-storey building at Albert and Lamaha streets. Given the circumstance of overcrowding in downtown Georgetown it is as ideal a trading space as any.
Curt Taylor, the establishment's Chief Operations Officer believes that by housing a food court, a sport bar, a lounge and a night club under one roof, the parent company has made a strategically shrewd move in what has become a highly competitive urban entertainment sector.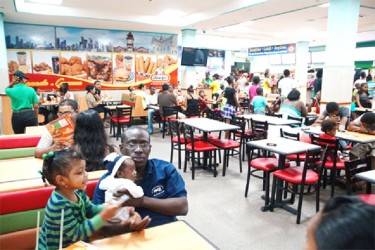 The food court comprises the American franchise Miami Grill and the Canadian franchises Dixie Lee and Papa Pete's Pizzeria. Dixie Lee was first introduced by the company on the Essequibo Coast three years ago.
Taken together, the new facility offers a range of options that exceed other local facilities that boast only a single franchise: gourmet pizzas, fried and grilled chicken, seafood, burgers and a range of salads and sandwiches; something, it seems, for everyone.
Unmindful of the tendency towards brand loyalty among patrons of the various franchises, Taylor says the company is "up to the challenge". What Stabroek Business detected during its visits to the facility was a wide-eyed fascination among some of the earliest customers to venture inside. It was, we felt, far too early to make a profound judgment.
On the surface at least, it appears that '704' has the balance right. Fried chicken, pizza and salads have, over time, become popular with patrons of local franchises, and Taylor knows only too well that tastes differ.
Other considerations, some unrelated to the quality of the food that is served can make or break an establishment and parking space is one of those. The new establishment has created a facility to accommodate 300 cars. It is attended by both electronic and manual security.
The Miami Grill is a privately held US restaurant chain headquartered in Florida. It has more than 70 outlets many of which are located in North and South Carolina.
The new facility employs 100 workers all of whom were subjected to specialised orientation by representatives of the respective franchises in disciplines that included quality control, food preparation, customer service, food handling and hygiene.
Taylor says the company was pleased to acknowledge the importance of securing Carnegie School of Home Economics-trained staff.
A month after the September 20 opening the management says it is pleased with the response from the public. Not surprisingly, weekends are busy and family evenings out place additional pressure on staff. Taylor says the company is concerned with sustaining a high quality of service. He understands that patronage can fall away with a decline in the quality of consumer service.
The trading day begins at 09:00 hrs and ends at 23:00 hrs and a delivery service is offered around the city. The food court has three kitchen managers.
Having completed the first phase of its multi-million dollar investment, Alfro Alphonso and Sons Enterprises is moving to complete the second floor of the Complex which will house the Sports Bar. That is scheduled to open next month. The remainder of the complex will be completed in 2014.
Taylor says that this year the food court looks forward to hosting Christmas Parties and other social events.
Around the Web