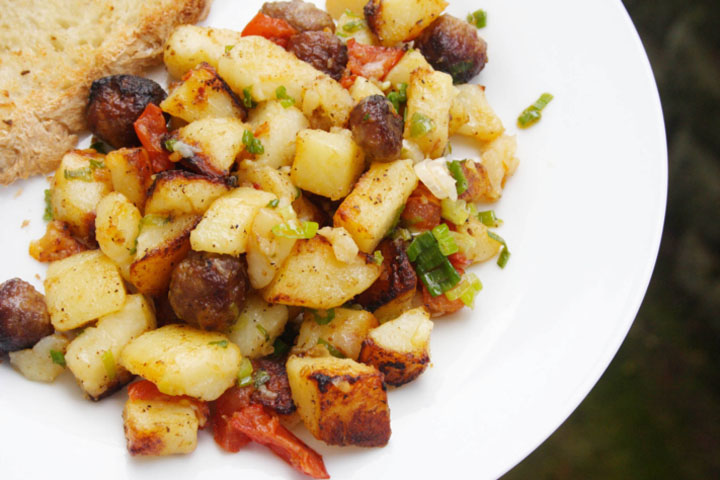 When it comes to breakfast, hold the muffins, cakes, sweet breads and jams, bring on the potatoes, sausages, eggs, salt fish, bakes and whatever savoury offerings you have.
Hash is a dish consisting of diced meat and potatoes cooked together. You can add spices and onions to the combo when cooking. The ideal type of sausage for this recipe is the fresh variety. You know, the uncooked sausage in the casing or sometimes they sell the sausage meat without the casings. Don't worry, if you can't find fresh sausages, mix up your own – get some ground meat or poultry, add fresh herbs and seasonings of your choice and mix it all together. Try and don't use all lean meat, you need some fat for moisture if not the sausage will be dry and not as flavourful.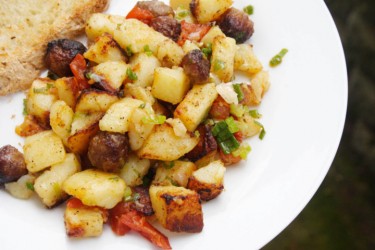 If you have a meat grinder, cut your meat into small cubes and chop up the herbs – grind them together. You can make sausage with any kind of meat – duck, chicken, turkey, pork, beef, mutton, lamb etc.
Anyway, let's work with you buying your fresh sausage meat to make this sausage and potato hash.
INGREDIENTS
Serves 4 – 5
●            5 sausages (about 12 ounces)
●            1 ½ – 2 pounds of potatoes, scrubbed, peeled and diced into 1-inch squares
●            ½ cup finely chopped onions
●            Minced hot pepper to taste
●            Salt to taste
●            2 whole scallions, green onions, sliced thinly (white & green parts)
DIRECTIONS
Remove the sausage meat from the casings and roll the meat into 1-inch balls. If you don't have the patience or time to roll the meat into balls, no big deal.
Add the sausage-meat balls to a cold, dry pan and place on medium heat. Let the sausage cook until it starts to render its fat (the oil) and the meat gets brown. Remove the meat from the pan and set aside.
Leave about 2 tablespoons of fat in the pan. Save the rest for another use or discard. Let the oil heat (on medium) until hot and add the potatoes, onions and pepper, spread in an even layer, sprinkle with salt and cook until the potatoes are brown
on one side. Toss/turn the potatoes to brown on the other side; reduce the heat to low and cover the pan and let the potatoes cook for 10 – 12 minutes our until a knife inserts easily. When the potatoes for done, use your spoon to scrape the bottom of the pan to pick up and stuck-on bits that have softened.
Add the cooked sausage meat back to the pan with the potatoes, toss to mix and raise the heat to high. Cook the sausage and potatoes together for about 3 minutes. Stir in the green onions and serve hot with thick-cut toast.
Around the Web