Chairman of the Alliance For Change (AFC) Nigel Hughes on Saturday left the Linden meeting to update residents on talks with the government after he was told that he could not speak as part of the official proceedings.
This newspaper was told that Hughes had earlier been invited by the organizers to speak at the meeting. However, according to sources, Hughes' name was not mentioned when notice of the meeting was being spread among the townsfolk.
Stabroek News understands that when officials of Region 10 (Upper Demerara/Upper Berbice) met representatives from the AFC just prior to the start of the meeting on Saturday, "you could cut the tension with a knife." At the time Sharma Solomon, trade unionist Lincoln Lewis and PNCR member Aubrey Norton were in the room at the regional office.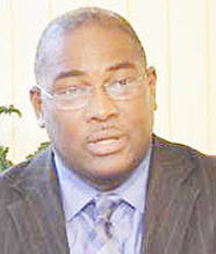 It was at this point that the AFC was told that Hughes could not speak at the meeting because the Region had invited A Partnership for National Unity and the party had not responded and it would have looked bad to have the AFC without the APNU. This newspaper understands that Hughes was offered a chance to speak but only to convey a brief message of greetings on his party's behalf. Hughes declined this offer.
An observer pointed out that at the meeting, APNU Members of Parliament, Renis Morian and Vanessa Kissoon spoke, as did Solomon, himself a member of APNU. "To say that APNU was not represented at the meeting was nonsense," said the observer. "Clearly they did not want Nigel to speak," the person said. "They are afraid of Nigel coming [to Linden]," the person said. Efforts by Stabroek News to reach Hughes for a comment on the matter proved futile.
Contacted yesterday, Chairman of the Region 10 RDC, Solomon denied any knowledge of why it was that Hughes abruptly left and said he was only made aware of the situation on Saturday afternoon. "I was not the person making the [administrative arrangements] for the meeting," he said. "I spoke to all of the political parties because I believe it [would have been good] for them to make their presence felt," he said.
Earlier on Saturday afternoon, this newspaper observed Hughes, Christopher Ram and Mark Benschop walking around the town and meeting with residents.
The meeting saw residents calling for the arrangements between the Government and the Region 10 RDC being advanced so that they could have their own television station.
Sources say the mix-up over Hughes' appearance is another manifestation of the ongoing move by APNU to limit inroads by the AFC in the community. Hughes has attracted a following in Linden and other parts of the country.
Around the Web