Family members of murdered male prostitute Wesley Holder are now concerned over the release of two persons held in connection with his death and the danger that a witness may face if no protection is provided by the police.
Paula Niles, the aunt of Holder, 19, who also known as "Horatia," said that the family was never contacted by police about the recent release of the two men, who were granted station bail in undisclosed amounts after they were held for over three days.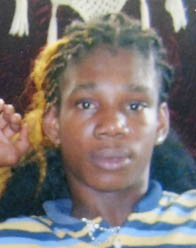 Holder's body, which had with stab wounds, was discovered in an empty lot behind the Carnegie School of Home Economics last Friday. An autopsy found that he died from haemorrhaging and shock as a result of stab wounds and blunt trauma from a blow to the head.
He was buried on Wednesday at Essequibo and many persons from Georgetown and his hometown of Westbury, Essequibo attended the funeral service, his aunt said.
Niles, however, added that she is now concerned about the safety of the main witness—a street worker like Holder and who is said to still be on the streets at night. She added that with no police safety, she has been constantly warning the witness to stay off the streets as she fears that what happened to her nephew would happen to him.
"Old boy gone and dead now and I am sure that everything is going to go quiet," Niles added.
According to the woman, prior to Holder's death, he promised to her in church one Sunday that he was going to change and start a new life. "He was only 19; he had his whole life ahead of him and he said in church to me that he is going to find a girl and change," Niles said.
A few days after his promise, she disclosed, he brought home a young lady, who was present at the funeral, and introduced her to his family. "He brought a girl whom he knew for a while and she was introduced to us all," she said.
Niles added that Holder was scheduled to go back to Essequibo where he planned to stay a while and try to turn things around but the family will never know now that he is gone.
The still grieving aunt, who said she believes her nephew will not rest till justice is done, condemns the vicious act brought upon Holder. "I put it in the hands of the creator what more can we do," she added.
Around the Web