Well-known Trinidadian professor Dr Tony Martin, who recently launched a book making the claim that the first Indian came to the Caribbean in 1595 and not 1838 as is widely believed, died on Thursday night at the West Shore Medical Hospital in Trinidad and Tobago.
Professor Martin, who was 70, was also a Guyanese citizen through marriage.
Martin, who was former Professor Emeritus at Wellesley College, taught for most of his life and had teaching positions at the University of Michigan-Flint, the Cipriani Labour College (Trinidad), and St Mary's College (Trinidad), according to trinicenter.com. He had also been a visiting professor at the University of Minnesota, Brandeis University, Brown University, and the Colorado College and also spent a year as an honorary research fellow at the University of the West Indies, Trinidad.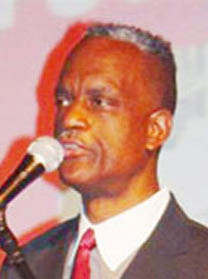 The news website said Professor Martin had written, compiled or edited 14 books, including Caribbean History: From Pre-Colonial Origins to the Present (2012); Amy Ashwood Garvey: Pan-Africanist, Feminist and Mrs. Marcus Garvey No. 1, Or, A Tale of Two Amies (2007), Literary Garveyism: Garvey, Black Arts and the Harlem Renaissance (1983), and the classic study of the Garvey Movement, Race First: the Ideological and Organizational Struggles of Marcus Garvey and the Universal Negro Improvement Association (1976).
Most of his books dealt with Marcus Garvey, on whom he had written his PhD dissertation, Martin told Stabroek News in an interview, which was published on May 12, 2012.
However, he described his latest book, Caribbean History: From Pre-colonial Origins to the Present, as the culmination of the 34 years of his teaching, research, interaction with students and reflections.
Martin had also stated that for his entire 34 years of teaching, he was never able to find a survey book on Caribbean history that he was happy with, and he felt the work filled the need for what he would call a "proper textbook" on the Caribbean. "I have tried to give it a much more Caribbean focus than any of the others; I have tried to include a lot of information which was never mentioned in other books," he had said.
Martin, an Emeritus Professor of Africana studies, was also an avid book collector. It was this hobby that led him to pick up a book by George F Warner that he would later discover to contain "startling pieces of new information," including that the first East Indian immigrant came to the Caribbean in 1595, not 1838. "This is one of the startling new facts that I have discovered researching this book," he had said.
Warner's book, titled The Voyage of Robert Dudley, 1899 and which was reprinted in 1967, said the first Indian arrived in Trinidad in February, 1595 in a very unlikely manner. According to the professor, it opened up the possibility of other areas where the experiences are totally unknown. His book reproduced Dudley's diary of his voyage.
Professor Martin's book also contained an interesting record of the late President Cheddi Jagan's appearance before the Face the Nation programme in the United States, as well as a brief discussion of the Walter Rodney saga. Along the way, Professor Martin said he relied on the work of several Guyanese historians, including Walter Rodney, James Rose, David Granger, Tota Mangar, Kimani Nehusi, Winston McGowan and others.
Professor Martin, a Trinidadian, said he became a Guyanese citizen as a result of marrying a Guyanese woman, from whom he subsequently separated. At the time of the interview, he was spending every other week in Guyana so he could have spent significant time with his then five-year-old son. At the time he was sharing custody of his son. It was his first child and he called the boy his unlikely partner during the writing of the book, saying he kept him young.
Around the Web