The Mayor and City Council (M&CC) is awaiting a work schedule of how the remaining $15 million, which was left from the $20 million allocated to the council last year for rehabilitation work on City Hall, is to be spent by the City Engineer's Department. This is partly the reason why the building remains in its current deteriorating state.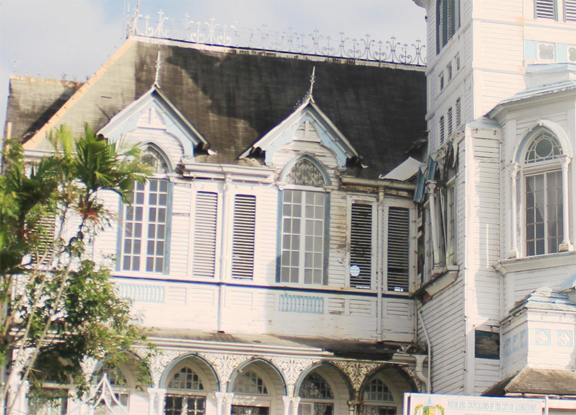 Mayor of Georgetown Hamilton Green said on Friday that $20 million was allocated to the council last year for repairs to the building but only $5 million was spent. He went on to say that the $5 million was not spent properly, and they are awaiting a report on the matter, but that the engineer has done some work on the windows. "The money is still there but we are waiting on the engineers to put a project proposal," he said.
Green added that when the engineer began to do work on the building he had been instructed that he should start with the roof but he did the windows instead.
Chairman of the Implementation Committee of the M&CC Keith Burrowes, has been asked by Minister of Local Government and Regional Development Norman Whittaker to manage the money. He had said that he was asked by the government to review any payment made on this particular project.
Green said there is a lot of work that needs to be done on the building but it is not a simple exercise. He told Stabroek News that the council has been engaging in dialogue with the National Trust which has promised to provide technical assistance for the project.
He also said, "We need to get international help. I have asked the Cubans and Venezuelans for help and they were willing but we did not have the resources to accommodate them."
Green also remarked that around the world, agencies like the National Trust take care of valuable buildings like City Hall but our Trust has no money.
When asked what efforts the senior officials at the council are doing to get the engineer's department efficiently functioning, Deputy Mayor Patricia Chase-Green responded, "When we intervene in matters of the council the officers run to the minister who advise them and they do not worry with the council."
City Hall is currently in urgent need of repairs and could disintegrate if no immediate action is taken.
Around the Web