China Harbour Engineering Company (CHEC), the contractor for the Cheddi Jagan International Airport (CJIA), Timehri expansion, spent approximately five million dollars to improve the facilities at the Windsor Forest Primary School, West Coast Demerara, Region 3, a release from the company said yesterday.
The infrastructure improvements, handed over yesterday, include a rebuilt bridge linking the school with the road, concrete paving of a section of the school yard, reconstruction of sections of the fence, construction of two new bleachers for watching sports and the levelling and sand filling of the playground.  Also refurbished was the pedestal and plaque erected in the school yard on January 17, 1986 by the Guyana Commemoration Commission to mark Windsor Forest as the place where the first Chinese who came to Guyana lived.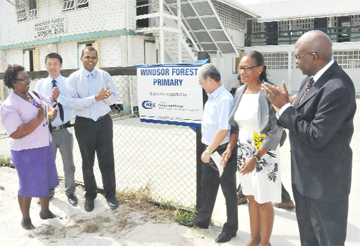 The release said that the work was carried out between January 10 and 25, 2013 and coincided with events to mark the 160th anniversary of Chinese immigration to Guyana.
The release said that since coming to Guyana, CHEC has taken the initiative to support communities through contributions to schools.  Last December CHEC hosted a Christmas party for 700 children from the Timehri Primary and Nursery schools.
Andrew Zhu, Assistant Project Manager of CHEC in Guyana, was quoted as saying, "China Harbour wishes that all students who attend the school would benefit from the improvements and it would contribute to improving their learning experience."
According to the release, Ambassador of the People's Republic of China to Guyana, Zhang Limin said that "Windsor Forest School plays a role in linking China and Guyana since there is a monument here to the first Chinese who came to Guyana."  He added that "More and more Chinese companies are coming to Guyana for projects as a result of the rapid growth of economic cooperation between Guyana and China.  Chinese companies not only contribute to the economic growth of Guyana but also make donations here like the CHEC contributions to the Windsor Forest infrastructure."
The ambassador said that in future, he expects even more Chinese companies to follow CHEC's example.
The release said that acting Minister of Education, Dr Frank Anthony expressed pleasure that China Harbour was the company doing the modernisation of the CJIA as he said they have a very strong track record around the world.
He added that such companies also bring the ethic of corporate social responsibility and CHEC had already been involved with school children in Timehri and had gone to Windsor Forest and done the infrastructure improvements at the school and rehabilitated the monument to Chinese immigration.
Anthony commended China Harbour and the Chinese Embassy and encouraged the children in attendance to consider learning Chinese because of opportunities in the future when China's economy would be the leading economy in the world, the release added.
Principal of the Windsor Forest primary school, Ann Barnes, teachers, students and the Regional Education Officer Marlyn Jones-O'Donoghue and officers of Region 3 Administration, also attended the simple handing over ceremony.
Around the Web