The Ministry of Health and the Pan American Health Organisation (PAHO) met with stakeholders of the prison service on Wednesday to identify and address the main challenges and gaps in the delivery of health care to prisoners.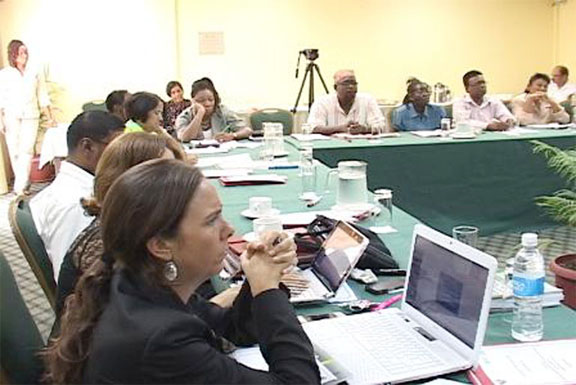 A Government Information Agency (GINA) report said one of the main points discussed at the High Level Meeting on health in the prisons was human rights. The meeting aimed to summarise the current mechanisms in place to maintain health in prisons, discuss the main challenges and gaps in the context of health in prisons, present an overview of the recent activities developed by PAHO in the context of health and human rights in prisons and identify next steps to be taken in order to develop joint activities engaging all relevant ministries to improve health and human rights conditions, in line with PAHO Resolution CD50.R8. It also sought to identify the best ways to coordinate a joint effort among relevant ministries for the improvement of health conditions in local prisons.  Resolution CD50.R8 specifically asks member states to formulate, and, if possible, adopt legislative, administrative, educational, and other measures to disseminate the applicable international human rights instruments on protecting the right to the enjoyment of the highest attainable standard of health and other related human rights among the appropriate personnel in the legislative and judicial branches and other government authorities.
"This meeting is a fledging effort which is worthy of support and at this stage should only be expected to lay the foundation for change and improvement in the systemic delivery of health care and promotion to a vulnerable group rather than be the harbinger of radical overnight reformation aimed at pleasing all and sundry," Minister of Health Dr Bheri Ramsaran said.
Ramsaran noted that the  first batch of ministry-trained nurses have been deployed to prison infirmaries and other locations and revealed that a 'Prison Nursing' module is being drafted for the nursing school. He also committed "to recognising prisoners as human beings and as Guyana citizens," GINA said, while adding that he also pointed out that any measures taken must consider the widely-publicised security reforms that are to be implemented, including in the prison service.  Ramsaran also referred to a document prepared by the Inter-American Commission on Human Rights comprising presentations from the Second Regional Seminar on Best Prison Practices which was held in Jamaica, December 2011. Under the section relating to Guyana, the list of best practices highlighted  the allowance of free access to calls to admission inmates, continued contact with relatives through visits and telephone calls, access to medical services, access to worship with their religious denomination, segregation of narcotic offenders, counselling of substance abusers through specialised programmes, access of inmates to retraining and skill programmes, access to magistrates every seven days, convicted inmates' ability to earn finance to assist their family, provision of special meals and counselling of HIV inmates and the establishment of a Sentence Management Board, Training Board, Recruitment Board and Visiting Committee.
PAHO/WHO Represen-tative Dr Beverley Barnett noted that the Constitution of the World Health Organisation, of which Guyana is a member state, establishes a basic international principle whereby the enjoyment of the highest attainable standard of health is one of the fundamental rights of every human being without distinction of race, religion, political belief and economic or social condition.
She pointed out that Guyana has also ratified several United Nations and Inter-American System human rights conventions and treaties. Dr Barnett recalled that at the country's Universal Periodic Review in May 2010, where it reported to the UN Human Rights Council in an integrated manner on its achievements and the progressive realisation of the obligations contained in the treaties that it has ratified, Guyana reported progress in the administration of justice. Special mention was made of access to justice and correctional services, and the country reiterated its commitment to protect the rights of prisoners. "An important aspect of that commitment, and a perfect example of the inter-relatedness of all human rights, is the obligation to fulfil the right to health, which, as we heard before, applies to all human beings, regardless of their social and other conditions…important aspects of the right to health are non-discrimination, participation, and the availability, accessibility, acceptability, and quality of health goods, services, and facilities," Dr Barnett said.
She noted that in fulfilling its obligations under the various UN and Inter-American human rights treaties, and as a Member State of PAHO and WHO, Guyana has recognised that people interacting with the justice system in one way or another, despite the fact that they eventually might be found guilty of having committed crimes, are still people – human beings – and deserving of their basic human rights.
"Of course, from a practical and public health perspective, it is important to maintain the health of prisoners, since it is anticipated that most of them will eventually re-join the wider society, participate in family and community life, and contribute meaningfully to national development," she added.
As part of its technical cooperation with countries to assist in the implementation of this Resolution, PAHO/WHO has initiated activities in the field of health in prisons. "Human rights is a PAHO/WHO cross-cutting priority, and is one of the UN systems' programming principles, so we are very pleased to collaborate in this effort with the Ministry of Health and the Ministry of Home Affairs," Dr Barnett said.
Around the Web