President Donald Ramotar has hailed the late Venezuelan President Hugo Chavez Frias as a "great friend of Guyana".
In a message of condolence on Chavez's passing yesterday to Vice-President Nicholas Maduro, Ramotar said "President Chavez was a great friend of Guyana.  During his tenure as President of Venezuela he sought to promote harmony and solidarity between our two nations.  The peoples of Guyana and Venezuela have benefitted in great measure from an enhanced programme of bilateral co-operation as a result of President Chavez' continental and internationalist approach to development. Our current warm and friendly relations are a testimony to his efforts and commitment.  We will value always his sincerity and friendship."
Ramotar added that his revolutionary ideals and determination to achieve social justice and equality endeared him to the people of Venezuela and gave them hope.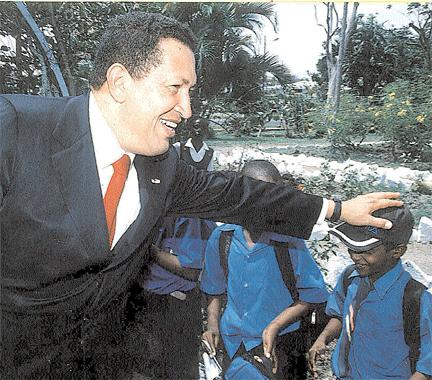 Describing Chavez as a committed integrationist, true to the philosophy of Simon Bolivar, Ramotar said he played a pivotal role in the formation of the Community of Latin American and Caribbean nations. Ramotar said that his memory would best be served by "us working together to continue the process of integration of the Latin American and Carib-bean region."
He added: "His selfless battle is over, we will miss him greatly."
Guyana and a number of Caribbean and Latin American countries will be waiting with bated breath on developments in Venezuela post-Chavez's death. The late Venezuelan leader had extended largesse to these countries in the form of oil on favourable repayment  terms. In addition, Guyana has been able for the last several years to barter a large portion of its rice crop with Venezuela for oil. Elections are to be held in 30 days and if Maduro was to lose there could be significant changes to the PetroCaribe oil programme.
In his first few years in office, Chavez had adopted a very aggressive posture towards Guyana over the border controversy between the two countries. This included an appearance at a regional summit in Brasilia, Brazil where he pored over a map of South America and boisterously restated Venezuela's claim to Essequibo. He did this on several other occasions but gradually softened his stance on the border as he focused on extending patronage in the Caribbean and further afield as a bulwark to US influence.
Relations with Guyana improved significantly and were capped by a visit to Georgetown by Chavez in February 2004 during which he appeared to signal that Caracas would not oppose foreign investments in Essequibo as it had been prone to do in the past.
The 31-point communiqué issued at the end of the visit saw a commitment by Chavez to adjust terms and conditions of the Caracas Energy Accord so that Guyana could benefit without breaching its obligations under the HIPC debt relief programme. The Accord was succeeded by Petro-Caribe in 2005.
Chavez also agreed then to a cancellation of the debt owed by Guyana to Venezuela.
Around the Web