Customers of the Guyana Power and Light (GPL) will have to continue paying for the "huge" electricity losses plaguing the company, particularly through electricity theft, if it is to stay afloat, according to Prime Minister Samuels Hinds.
"Our generation is okay but our losses are much too huge. There are times when the number was as much as 40% or more," Hinds told reporters yesterday during a media engagement, where he revealed that the figure now stands at about 31%. "People have complained that they should not pay for losses but the way a company runs, if it is to survive, it has to receive enough money to cover all its costs… the price that the customers pay is reflective of the total costs of the operations," he said.
The half-day programme, held at the Regency Suites, was aimed at discussing the operations of GPL while at the same time building a partnership with the media to disseminate information and it saw company officials detail its trouble in addressing losses, including its problems with the judicial system.
Hinds, in his opening remarks, said that if GPL took the position that customers should only pay for what they use and not consider the losses, then the company would close its doors. "It would not have its money to buy fuel and keep itself running," he said, while adding that the effect of the losses, particularly the commercial losses, raises the costs of generation.
He added that he is disheartened when he compares the range of losses in other countries with Guyana. Using Barbados as an example, he said that island is reporting losses in the order of six to eight percent. "I envy that situation greatly… What is a blot on our society, is a blot on all of us, is the high level of commercial losses. We have been addressing the issue of commercial losses, theft of electricity… let me say that the occurrence of theft seems to pervade our society at all levels," he declared.
Culture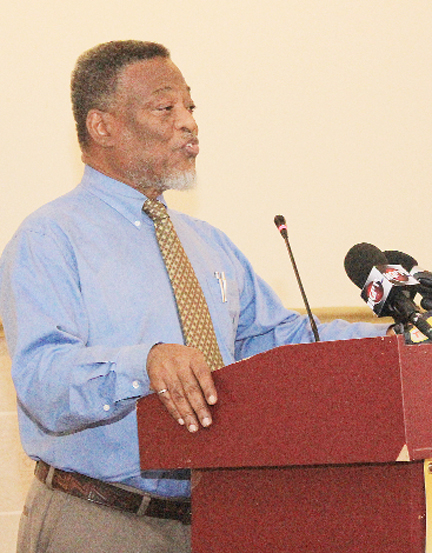 GPL Chief Executive Officer Bharat Dindyal agreed that losses are a huge problem facing the company. "We have said publicly that our approach is to continuously plead with our consumers to try and change this culture while using the police and other methods," he said. He added that officials of the company interacted with experts who had undertaken massive loss reduction projects in the Dominican Republic for a week and those experts offered advice and different designs for distribution systems. According to Dindyal, the company is seeking assistance through financing from the IDB to have these implemented. "The fact is that we have to take a highly technological approach in dealing with this problem. We cannot continue to plead with people to change the culture, it is not happening," he stressed.
He explained that the approach the company is  looking at is for the network to be fraud-proof, while noting that it plans to install a metering system that is the best available in the world. "It would be so sophisticated that we can sit in our office and carry out diagnostic tests…," he said, while adding that the issue of persons tampering with the meters still remains.
Kumar Sharma, Divisional Director of Loss reduction, explained that the issue of illegal connections and prosecutions remain a challenge for the power company.
He said that in 2012, there were 123 raids, resulting in the removal of 5,604 illegal connections. He added that 292 persons were also arrested for illegal connections and out of that number 11 were convicted, while the remaining cases are still in court.
"We have a major problem with the court system. A lot of the cases [are] being delayed," he said, while noting that over the past six years there were more than 2,000 arrested and there are still 1,248 cases still pending.
"Over the past six years, we have removed over 30,000 illegal connections countrywide. One of the major problems we have is that when we go into these areas we may carry out a raid… a week later, when we go back in those areas, you would see more than 50% of those illegal connections are back," he added.
To address the situation, he said GPL has plans to start two pilot projects this year as part of an IDB project. One project would see the installation of a network that will make it difficult for people to connect illegal connections and the other would see the introduction of an advanced metering structure. In the second project, he said, GPL will be looking at installing approximately 2,000 in the business hub of Georgetown, giving it the ability to track the consumers' consumption in real time. He said that this type of meter is being used in the Dominican Republic and Jamaica, while Barbados is contemplating such a move.
Generation
Meanwhile, Hinds said improving generation is the first priority. "Now, we are at a point where we are doing the transmission upgrade and now we are putting in some sub-stations with the soft loan from China," he said, while noting that the company is making "a tremendous step in raising the sophistication" of its transmission system.
According to Hinds, in terms of generation cost, the power company has been doing as well as could be done with the size of units that are appropriate and with the fuel purchase agreement. "That would give us generation costs at about US 20 cents per kilowatt hour," he said, while adding that with the much smaller diesel units, the cost goes up to about US 35 cents per kilo watt hour. The average generation cost, he noted, is around US 23 cents per kilowatt hour.
GPL Chairman Winston Brassington said that when the Chinese project is completed later this year, Demerara and Berbice will be interconnected via a 69 KV transmission line.
He said that Linden is projected to be connected to the grid by 2017 when the Amaila Falls Project is completed. "The power will come from Amaila to Linden via our new transmission line and then from Linden to Sophia via another transmission line," he said while trying to explain to reporters how the linkage will be done. He stressed that Linden will only become part of the grid once this linkage has been done.
The company's available generation capacity throughout the system currently stands at 125MW, Dindyal said, adding that a 26 MW plant which is being constructed at Vreed-en-Hoop is expected to reach the stage of commercial operation by the end of the year.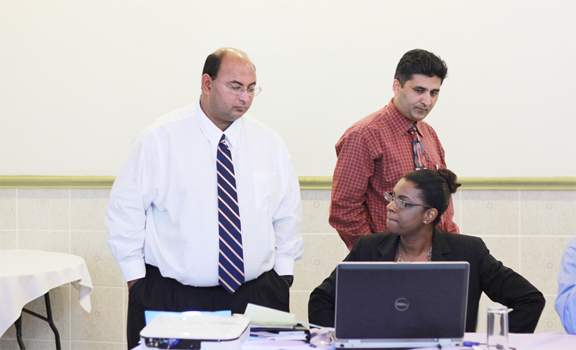 Dindyal also said that a staff shortage is one of the issues that is affecting the company. "Staffing is a major problem. We have lost in recent years some of our senior engineers, managers to self-migration… we are losing people all the time to Caribbean territories and other countries, in particular, the US and countries in Europe," he said, while noting that in 2004/ 2005, there were 41 graduates but presently only five of those persons are still on the job.
"While we don't have an answer we will have to continuously train people. We cannot compete with salaries in North America even in the Caribbean it is difficult for GPL to compete," he said.
Director of Operations Elwyn Marshall, Senior Director of Informa-tion Technology and Commercial Ser-vices Renford Homer and Deputy Chief Executive Officer Aeshwar Deonarine were also present at the forum.
Around the Web