BRIDGETOWN, Barbados,  CMC- President of the West Indies Cricket Board (WICB) Dr. Julian Hunte says it was not possible to provide an official welcome to the regional side after they won the ICC world T20 championships last year.
The WICB president was responding to criticism in the regional press over the board's failure to hold an official function celebrating the team's impressive performance in Sri Lanka.
Dr. Hunte, who is facing a strong challenge from Jamaican businessman Whycliffe Cameron for the position of WICB president in General elections next Wednesday, says the touring side was not officially welcomed home because all the players did not return at the same time. "Unfortunately it was not possible to do this after winning the World Twenty-Twenty Championship as the Players went off in different directions around the world from Sri Lanka," said Dr. Hunte.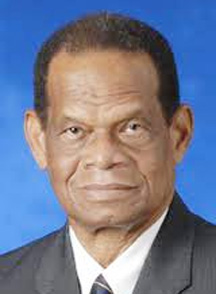 "However I was pleased to have been in Sri Lanka as I was able to host a celebratory function for the team on the night of the win".
Dr. Hunte's response was part of a speech he delivered March 10 during a welcome home function celebrating the success of the regional women's side which lost to Australia in the finals of the Women's 50 overs World Cup in India. The excerpt of the speech was released on Tuesday by WICB corporate communications division in response to the criticism.
During the function at which Hunte made the speech, he also commended the returning West Indies women squad who also received gifts and awards.
Trinidad and Tobago Guardian has reported that that since winning the world title the regional players have gotten only a congratulatory message from the WICB.
The newspaper reports that players received nothing although some were met by officials.
"I wish to assure the West Indies Men's Team that this "welcome home" reception is now institutionalised and as such applies to them equally" said Dr.Hunte at the function to honour the regional women's cricketers who also won series against New Zealand and Sri Lanka.
Around the Web