A Partnership for National Unity member and shadow Health Minister Dr George Norton yesterday painted a bleak picture of the health sector during his budget address and charged that a major project at the GPHC was already showing signs of decay.
Addressing the National Assembly he said  "It is uncomfortable for some to hear that the US$8M that was spent for the inpatient facility at the Georgetown Hospital which is little over one year old seems to be crumbling already". Norton stated that if the GPHC was in such a decrepit state that it is no surprise that other health facilities are faring no better.
Norton stated that the inpatient facility had a crumbling roof and moisture damage was wreaking havoc on the foundation. He stated that "various places are being swarmed with moisture and the continuously overflowing sinks in the public washrooms" was evidence of lack of proper care in construction. He continued that "the floors remain peeled and cracked with dirt stains. Ventilation remains a problem…especially in the wards without windows". Norton added that many doors are broken as well as the intercom system and an elevator.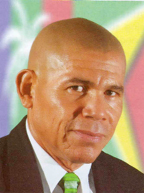 He said if the premier health facility could be left without regard it was left to the imagination of the situation in Guyana's 362 additional public health facilities. "Bed sharing still remains an issue and at sometimes we even have to share the beds with the dead," Norton stated.
Norton stated the Ministry has to be aware of the major issues crippling  healthcare in Guyana and said it  "makes no sense to boast about the 129 health centres and the 209 health huts that exist if they are not functioning properly, if they are understaffed, without equipment, no drugs."
He continued that beyond the GPHC the ministry must recognize that a bigger budget is not solving the problems associated with the lack of drugs being delivered to health facilities on time, "Region 7 Bartica Hospital's yearly drug supply have not been delivered… excuses being lack of staff." Norton noted that last year's health budget allotments was well over $17B and that issues like drug deliveries are still being worked out. He said that public healthcare was being marginalized "there are no agents to do lab work at the Bartica Hospital…patients are forced to seek care at private labs."
Norton added that "there has been so much talk about sending persons overseas to do further specialist` training …but yet we have a doctor who has specialised in ophthalmology, is now back in Linden for over one year and the conditions for maximum utilisation are yet not in place". The Member of Parliament said that for three years the government remained unable to put the proper arrangements in place so this particular specialist was able to work to her full potential. Norton stated that the health ministry did not have answers as to when and how they planned to correct these blatant failures.
He stated that the $19.2B that was proposed for the sector during the 2013 budget was two billion more than last years and that was still not enough to get  projects finished or enough to keep facilities stocked with necessary drugs. "In the 9th parliament alone the honourable Minister came back with 14 supplementary appropriation bills," Norton said, for the approval of money that was already spent.
Hinterland evacuation
Norton turned his address to the lack of life saving transportation out of the hinterland. "We the Guyanese people want to see a protocol established mandatorily requiring domestic airlines to put a system in place to medivac emergency cases."
He noted that this was not just the lack of airlines and pilots however and that transportation in all forms was severely deficient. Norton noted that many deaths have resulted from the lack of ambulance services or other forms of emergency transportation.
Meanwhile Minister of Health Dr Bheri Ramsaran during his presentation stated that in 2012 with the cooperation of private airlines 125 flights were made possible to get persons to medical facilities that could better treat their emergencies.  Ramsaran stated that over 150 patients in need of medical assistance were brought out from the hinterlands communities. The Minister however did not state if in 2013 or forward a public sector initiative would need to be put in place to alleviate the dependency on private aircraft.
Ramsaran highlighted that the sector was working to address the problems, but he did spend the majority of his presentation singling out medical personnel for their handwork and commitment. He noted that many ventures will be ongoing ink 2013 such as  more cardiac services and the extension of the post grad obstetrics programme.
Around the Web