Dr Dale Arlington Bisnauth, who had served as a minister in successive PPP/C governments, died yesterday following a heart attack.
He was 76.
His daughter, Darlene Harris, told Stabroek News that his death came as quite a shock to the family, including her siblings overseas, who are having a hard time since they were unable to be here with him in his final days. She said that he was at church up to Sunday and was very involved in all the Easter activities.
The congregation of his church, the Guyana Presby-terian Church, is also at a loss, she added.
Bisnauth became Minister of Education in October of 1992, on the accession of the PPP/C to office and he held the portfolio until March 2001. He subsequently served as Minister of Labour, under the Bharrat Jagdeo administration. In recent years, Bisnauth had been the Chairman of the Board of Industrial Training and he was also the Associate General Secretary for the Caribbean Conference Churches and Pastor at the Guyana Presbyterian Church at the time of his passing.
In a statement yesterday, Minister of Education Priya Manickchand and her staff expressed sincere condolences to his family and friends.
"…Guyana has lost a good son who lived his life in service and whose love for humanity manifested itself in tangible contributions to our dear Guyana and her people," the statement said.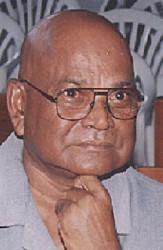 It also noted that Bisnauth was instrumental in implementing the Primary Education Improvement Project, the design and implementation of the Secondary School Reform Project, the initiation of the basic Education Access to Manage-ment Support Programme, the implementation of desk manuals for senior managers at the school, regional and national levels, the introduction of Board Management at the Cyril Potter College of Education, senior secondary schools and technical institutions.
Bisnauth, who taught in both primary and secondary schools, read for a PhD in History at the University of the West Indies (Jamaica) where he had earlier obtained a BA, and he also attended the University of London, where he earned a Bachelor of Arts Degree in Divinity Studies.
Paul Harris, his son-in-law, said that he had tremendous respect for Bisnauth and his knowledge. "He had some philosophies that I found quite compelling and some of those thoughts will constantly remain with me," he said.
Meanwhile, at the request of Speaker Raphael Trotman, Members of Parliament in attendance at yesterday's sitting of the National Assembly stood and observed a moment of silence in honour of the memory of Bisnauth, who had been a parliamentarian for several years.
Trotman, in brief comments, described Bisnauth as a "gentleman, a man of [the] cloth," serving the Lutheran members of Guyana
He said the former minister became a parliamentarian in the Sixth Parliament and also served in the Seventh and Eight parliaments. He said he will be remembered not only for his contributions to the House but also as a renowned historian.
Opposition Leader David Granger expressed sympathy on behalf of A Partnership for National Unity and agreed that Bisnauth was a renowned historian, noting that he lectured at the University of Guyana.  He also noted that Bisnauth, as a theologian, also wrote extensively on religion in the West Indies.
According to publisher Peepal Tree Press' author profile of Bisnauth, he was born in rural Guyana in 1936 to parents who were second generation farmers. It says he attended the Unity Theolo-gical College of the West Indies (Jamaica), where he was trained for the ministry of the Guyana Presbyterian Church, having been converted from his Hindu background to Christianity at age 15.
Bisnauth, it notes, served in the regional and world ecumenical movements and worked in Guyana, Jamaica, Trinidad and Barbados and as a leading member of the Caribbean Council of Churches he was an indefatigable supporter of human rights during the long years of repression in Guyana.
Further, it adds that as an Indo-Guyanese, whilst Bisnauth was concerned to emphasise the Indian presence in national life, his historical work was characterised "by a total rejection of the kind of ethno-centric biases which mar some of the work in this area."
Bisnauth was author of "The Settlement of Indians in Guyana: 1890-1930," "A Short History of the Guyana Presbyterian Church" (1979) and "History of Religions in the Caribbean" (1989).
"His commitment to social justice is strongly reflected in "The Settlement of Indians in Guyana" which writes history from the perspective of the working classes and focuses on the contribution of those who came from the Indian lower castes to the making of a dynamic Indo-Guyanese culture," the profile notes.
Peepal Tree Press founder Jeremy Poynting is quoted as saying he met Bisnauth in the Education Ministry in Georgetown, listening patiently to countless pleas and complaints from parents concerning the collapsed state of schooling that he was desperately trying to remedy." I was deeply impressed with his sincerity, his accessibility and total absence of ministerial "grandness." Later, I discovered that the Minister has a very hearty sense of fun and enjoyment in life,'" he noted.
Around the Web