Jamal Harris, 19, was fatally stabbed early yesterday morning during what police say was an attempt to rob a vendor at the Kitty Seawall, in Georgetown.
Harris, of Lot 82 D'Urban Street, Lodge, succumbed at the Georgetown Public Hospital to stab wounds that were reportedly inflicted by a "junkie," who had been assisting the vendor when the attack occurred.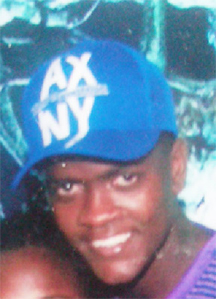 Crime Chief Seelall Persaud told Stabroek News yesterday that Harris was one of two men who tried to rob the vendor. He said that Harris and another man, who was reportedly armed with a handgun, attacked the vendor, who was at the time packing up his stand with the assistance of the "junkie."
During the attack, Persaud said, the vendor held on to the gunman, while the "junkie" held on to Harris. He added that there was a scuffle and Harris was fatally stabbed. He could not say who was armed with the knife. According to Persaud efforts are still being made to find the "junkie."
Police had earlier reported that Harris was on the seawalls at about 2:30am when he had an altercation with a group of persons, during which he was stabbed multiple times to his abdomen.
Harris lived with his girlfriend Tandika Hinckson, with whom he had shared a three-year relationship.
Hinckson said Harris had left earlier in the afternoon on Sunday and later in the evening she contacted him to pick her up from her mother's house. "He come with the car and dropped me home. He said Tandika give me a kiss and I said 'No, let we go inside but he told me he was going out (not telling where) and drove away," she recalled.
At about 2:15 am yesterday, she said, she received a call from an anonymous person from a blocked number, notifying her that Harris was stabbed on the seawalls and was taken to the Georgetown Public Hospital.
At the hospital, Hinckson said that she was told by doctors that they were operating on Harris, who eventually succumbed to his injuries.
"If I knew it was the last time I would have seen him, I would have kissed him and accompanied him on the seawalls. I never known him to have a problem with anybody," she lamented.
Harris was remembered as one of the "coolest" persons anyone could meet. He was working as a maintenance man up to the time of his death but was said to have had a wide knowledge of other professions.
Meanwhile, Persaud acknowledged that the regular occurrence of attacks on the seawall is an area of concern for the police force. "We have been noticing this for a while," he said, while adding that foot patrols have begun not only on the seawall but also in the National Park to address the problem.
Around the Web