The owner of Confidential Cabs was remanded to prison yesterday on a charge of attempted murder after he was arraigned before Chief Magistrate Priya Sewnarine-Beharry.
It was alleged that on April 4 at Robb Street, Kwame Anderson, 35 unlawfully and maliciously assaulted Lawrence Fanfair with the intent to commit murder.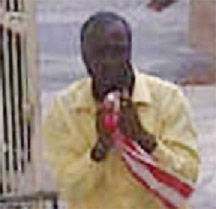 Anderson pleaded not guilty to the charge when it was read to him at the Georgetown Magistrates' Court.
According to the facts presented by the prosecutor, Police Corporal Seon Blackman, on the day in question, at about 17:50hrs, Fanfair was on his pedal cycle on Robb Street, proceeding East in the vicinity of Confidential Cabs.
He said that Fanfair's bike was almost hit by a motorcar, and as a result an argument broke out between Fanfair and the driver of the vehicle. Blackman related that the defendant had parted the argument and had returned to his place of business, when Fanfair went after him with a knife.  Anderson, in his defence allegedly took a pointed object he had in his taxi base and stabbed Fanfair with it.
The virtual complainant (VC) was then rushed to the Georgetown Public Hospital (GPHC), where he was admitted and his condition is listed as critical.
Attorney-at-law Mark Waldron who represented Anderson asked that his client be granted bail in a reasonable sum since he had walked away and it was the VC who attacked him with a knife and he defended himself.
He said that Anderson is the owner of Confidential Cabs taxi service on Robb Street and he has a fixed place of abode at 449 Diamond Housing Scheme, East Bank Demerara.
Counsel further told the court that he and his client sympathise with the existing condition of the VC and they hope that he has a speedy recovery.
The prosecutor, Corporal Blackman objected to bail citing the seriousness of the offence and the punishment it attracts and the fact that the VC is currently a patient in the Intensive Care Unit at the GPHC.
The presiding magistrate then remanded Anderson to prison.
His matter will be called again on April 12.
Around the Web