Two men accused of murder pleaded guilty to the lesser charge of manslaughter before Justice Franklyn Holder in the High Court last week.
Floyd David, known as "Foodface" pleaded guilty to killing Joseph Pyneandy, who he had beaten to death on September 27, 2009 at Bourda Market.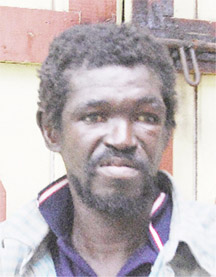 David had said at the Magistrate's Court when he was charged for the crime that the deceased had lashed him and he hit him back. However, police alleged that it was David who had hit Pyneandy to his head with a piece of wood and Pyneandy retaliated by hitting him back. David then dealt Pyneandy several other blows about his body, which caused him to collapse. He was later taken to the hospital where he subsequently succumbed.
Meanwhile, George Gulliver pleaded guilty to killing his reputed wife, Bibi Fazila Ali, who died in June 2009. Gulliver, who was a tenant of Lot 9 Vryheid's Lust, East Coast Demerara, had assaulted his wife, who later succumbed in hospital.
Both men were represented by state-appointed attorneys, while the state's case was presented by Diana Kaulesar and Natasha Backer.
The two men will be sentenced on April 30 by Justice Holder.