Thirty-eight-year-old Mahendra Persaud has been working with the Guyana Sugar Corporation (GuySuCo) for the past 23 years and while it is a job that comes with benefits, he does not wish to have his children work as cane-harvesters.
"It is a stiff piece of work," was how he described harvesting cane, something he has been doing for the past six years.
He has to be out on the Bath Settlement Public Road at 5 am every day to get the truck that transports them to the Blairmont Estate because, as he puts it, "if you miss the truck you miss a day wuk."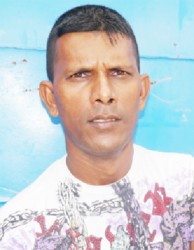 Before harvesting cane Persaud worked in the Other Crops Division, where he weeded and also cleaned canals, which entailed him getting to work by 7 am.
During the harvesting period he works every day, but when it is the out-of-crop season he and  others like him would get about four days' work, which, he said "is not good because when you don't wuk is no pay."
"Sometimes the harvest does last fuh like 15 weeks, but then when something go wrong it does be shorter and it means we does suffer when somebody mek a mistake," he said.
Explaining what a regular day is like when harvesting, the father of two daughters said he joined the truck at 5 am with 60 other persons. When they arrive in the field they are given numbers and they work according to these.
The Guyana Agriculture Workers' Union (GAWU) representative said they would cut cane for about four hours in four gangs. Three gangs would load the cane every week while one gang would be given a week off and just have to cut cane.
"So you load for three weeks and then you get a week off," he explained.
All the gangs have different numbers.
While cutting cane if a worker feels hungry he can stop and eat, but Persaud said most people eat after they have completed the task.
After harvesting the truck is there to transport them back, and Persaud said that while the working day may appear to end early, it is never easy for them. "It is not a easy task; we have to work with rain and sun, whatever the condition is we have to work. The work exhaust your body, you work more for the same money," was how he described it.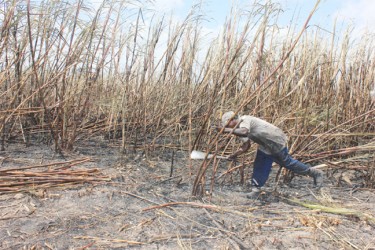 He would not advise anyone to become a cane-cutter because of how he has struggled over the years, although he quickly added that they worked for an honest living. "And is like you get some independence; we wouldn't want to go and work for a private person, it have benefits too, a lot of attractive packages," he said.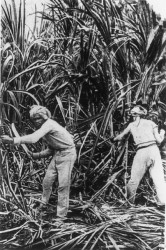 But he noted nevertheless the man who works hard in the field does not get the same benefits as the man who works in the office of the corporation.
"And without we, dem can't get paid, sugar does grow in the fields it can't grow in office and they have all kinds of allowances," he remarked. "And is not because we are dunce you know, is just that we don't really find alternative work."
And he said that although they go home early in the day it is impossible to have another job because of tiredness. "You body tired, all you could do is go and rest and get up and do some planting," he said, adding that he does have his kitchen garden to supplement his income.
But as he works he remembers his ancestors who were indentured workers on sugar estates and Persaud said he would be joining in observing the arrival of Indians in Guyana on May 5.
He noted that 175 years is a significant milestone and should be recognised.
Around the Web