A mother of two was yesterday knifed to death by her reputed husband who then attempted to commit suicide but was found a short distance from their Kuru Kururu Squatting Area, Soesdyke-Linden Highway residence.
Shaneza Ramdat called 'Reshma', 23, was found dead in her yard about 12 pm by her brother Gewan Ramdat minutes after she was killed.
Her attacker, 40-year-old Shameer Ali, is now in a critical condition at the Georgetown Public Hospital where he is being treated for a slashed throat. He is also believed to have ingested a poisonous substance and is under police guard.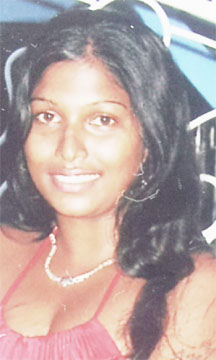 In a release, the police said that Ramdat had an argument with her common-law husband during which he allegedly stabbed her to the neck and other parts of her body. The police said that the suspect was subsequently found in some bushes a short distance away with a wound to his throat that was suspected to have been self-inflicted.
The dead woman's brother said he was talking to his sister minutes before she was killed. He recalled that he, his sister and Ali were at a neighbour's house located a short distance away talking as he had gone to spend a few days with her.
Ramdat said his sister and Ali left and went to their home and he went to a shop nearby. He noted that they left on good terms and were even making jokes with each other as they left.
While he was at the shop, he said, he received a telephone call informing him that his sister was heard screaming and he went to investigate. "When I go home, I see she on de ground. She de done dead," he said.
Ramdat added that his sister was lying in the sand in front of her home with stab wounds to her hand and neck.
Ali then made good his escape but was captured shortly after by villagers who went in search of him.
No one could say what led to the stabbing because the couple appeared happy minutes before the tragedy. But an immediate neighbour said that her son, who was at home, told her that he had heard the couple arguing inside the house before the killing.
A man, who was part of the search team, said that they found Ali in a clump of bushes a short distance away from his house with his throat slit and a knife in his hand. The man added, "when we see he, he de bleeding so we din do he nothing. We de cut some long wood fuh he. But we hand he ova to de police after how he deh."
Ramdat was the victim of abuse during the four years she lived with Ali, but she never made any report to the police. Her brother said that recently Ali threatened to take his sister's life and that both of them were in habit of threatening to kill each other if either of them cheated.
Relatives of the deceased also said that Ali was employed in the interior and had returned to his family's home on the East Coast Demerara about a month ago. While he was there, Ramdat called him and asked him to return home, her relatives said. They also stated that both Ramdat and Ali consumed alcohol, but neither one of them was intoxicated yesterday.
Their children, aged five and six, had not been living with them for the longest while and will now remain solely in the care of relatives.
Around the Web