"It is not a witch hunt, but please, up your standards, and do what is expected of you," was the cry of one woman who gave a short speech during a candlelight vigil last evening by friends and family of Luan Rodney.
Twenty-eight-year-old Rodney died at the Georgetown Public Hospital Corporation (GPHC) last Tuesday morning while delivering her baby.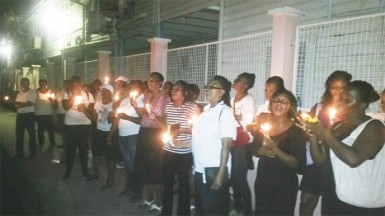 During the vigil, which was held on New Market Street, just opposite the maternity ward of the hospital, one woman made it clear that the 41 men, women and children who were part of the vigil were not on a witch hunt, but attempting to implore the staff of the hospital to take their job more seriously.
The group, which consisted mostly of women, held their candles and sang songs before observing a moment of silence for the now deceased woman whose devastated husband is now left to care for their young daughter by himself. Five men were also part of the vigil.
The voices of the singing women were heavy with emotion as tears formed in their eyes.
As the vigil drew to a close, a portion of the "Nightingale Pledge", the oath taken by all nurses before taking up the mantle of nursing, was recited by one of the gathered who reiterated that the group's effort was not a witch-hunt.
Around the Web