A 72-year-old man was discovered dead in a trench yesterday at Lusignan, East Coast Demerara.
Dead is Ramsawack (only name) also known as 'Badoboy' of Lot 43 Second Street, Annandale, East Coast Demerara.
His daughter Surujdai Ramsawack told Stabroek News that relatives became concerned when her father who normally acts as a watchman at the Lusignan Centre Ground didn't return from work.
She stated that her father would usually start his shift at 6 pm and return at 6 am the next day. "He does normally watchman at the ground and when he doesn't drink he comes home at 6 am, but when he drinks he comes home later", she said.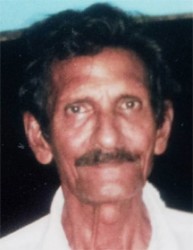 Surujdai said that at around 10:30 am yesterday, a lady informed her that her father's clothing was on the bridge by the trench. She added that sometimes her father stops in by her brother, so she called to enquire if he was there.
"I called my brother and asked him if he deh there, but my brother said no", she said. Surujdai said that it was then they decided to go and make a check. "We check around the trench to see if he drunk, but we didn't see him so we went to the police station to make a missing person report", she said.
She said that when they returned to the trench at around 11 am, her brother and some other persons went in and they pulled out the body of her father. His body is at the Lyken Parlour and a post-mortem examination is scheduled for Friday.
Around the Web