Despite Basmattie Sewsankar's story of seeing murder accused Hameraj Rambachan stabbing her mother Rajpattie Jagroop in their bedroom, Justice Brassington Reynolds freed him, upholding a no-case submission made by the defence on the basis of poor identification of the accused.
In his ruling in the High Court yesterday, Justice Reynolds stated that there was poor identification in the case and the threshold for sufficiency had not been met for him to call upon Rambachan to lead his defence.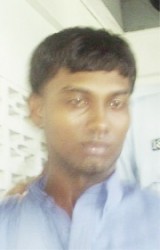 He then advised the jury to return a formal verdict of not guilty and told the Ruimzeight, West Coast Demerara (WCD) resident that he was free to go.
But Prosecutor Renita Singh, who represented the state's case along with Dhanika Singh, informed the court that they will be appealing the matter.
She also asked that Rambachan be remanded to prison because he was charged with a second offence; wounding with intent. He is accused of wounding Sewsankar to her shoulder and head during the attack on her mother.
Justice Reynolds subsequently granted bail in the sum of $150,000 to the accused after listening to submissions from both defence and prosecution.
Defence counsel Kim Kyte-John responded to Singh's statement by telling the court that wounding with intent is an offence for which bail is granted. She said her client had been in prison since 2009 and prior to the offence he was charge with, there was nothing known against him.
Kyte-John also said Rambachan has a fixed place of abode and when the time arises for him to be prosecuted, he will make himself readily available to the court. She further noted, in her effort to secure bail for her client, that if the court wishes to impose any condition on Rambachan he will abide by it and will even surrender his passport.
She also asked the court to set bail in a reasonable sum for her client.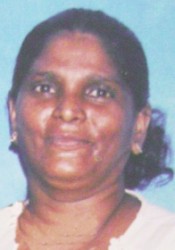 Singh rebutted that Rambachan should not be given bail because of the nature of the offence he was charged with and the fact that Sewsankar lived in the same area as him. She added that the accused was also deemed a flight risk giving that the murder case against him has been appealed.
Kyte-John then reminded the court that her client was willing to abide by any condition even if it entails reporting to the police station daily. She also stated that she did know that the prison contained anyone who was charged with wounding.
At this point Justice Reynolds inquired from Singh how many counts of wounding Rambachan was charged with and she replied one.
He then granted the accused bail and asked him to lodge his passport with the police.
Rambachan will also have to report to the Leonora Police Station every Monday at 9 am until the hearing and conclusion of his matter, Justice Reynolds added.
Rambachan was accused of stabbing Jagroop to death between July 21 and 22, 2009 at Zeeburg, West Coast Demerara.
He was the ex-boyfriend Parbattie Ramlakan, one of the woman's daughters. Jagroop was stabbed several times about the body and collapsed shortly after. She was pronounced dead on arrival at the Leonora Cottage Hospital.
Sewsankar had told the court that she and her mother were at home sleeping on the night of the incident when she was awaken by screams coming from her mother, who was sleeping next to her in the same bed.
She had recalled seeing Rambachan on top of her mother, with a knife in one hand and the other covering her mouth as he stabbed her.
Jagroop's daughter had also said that she turned to pull her mother away from the accused but he dealt her a stab wound to her shoulder and a chop to her head before escaping.
At the time the incident occurred, the witness had said that they had no electricity but used two gas lamps; one of which was placed in the bedroom and the other in the living room.
The light from the lamp was the light that aided her in recognising the accused. She had also testified that she had known him for a year and a half as her sister's boyfriend.
Around the Web