A delegation from China Chengtong (CCT) Holdings Group Ltd, led by its Vice President Li Yousheng met President Donald Ramotar on Monday for talks on its interest in the establishment of an agri-forest project in Guyana, according to the Government Information Agency.
GINA in a release yesterday said that the company is a producer of forestry-pulp papers, and also pursues investments in tourism, and cultural and packaging industries. There are more than 100 subsidiaries all over China with a branch in South East Asia and plans for expansion into Africa, GINA said.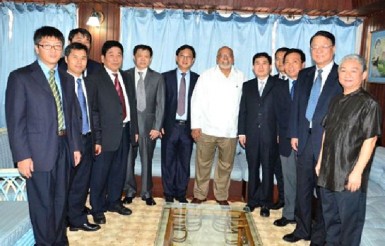 "The project (proposed) is just the plantation for the trees and an integrated base for agriculture projects… that (will be) very good for the… local people here," Vice President Li said in an invited comment to GINA.
He gave the assurance that sustainable practices are at the heart of company's method of building the forestry industry.
There have been increasing concerns locally about large Chinese companies accessing the forestry sector not being forthcoming about their plans or the bases on which they are operating.
Such questions were raised recently about Bai Shan Lin which is involved in 960,000 hectares of forest here after tying up a series of deals with other Chinese companies. Questions have been raised about the foundation of these transactions and whether the company is engaged in illegal `landlording' where timber is extracted from concessions under the control of other companies.
According to a presentation by Bai Shan Lin Chairman Chu Wenze, which was made at the 2nd World Congress on Timber & Wood Products Trade in China last year and recently seen by Stabroek News, the company's ventures in Guyana are listed as Guyana Bai Shan Lin International Forest Industry Development Co., Ltd. founded in 2005; Haimorakabra Logging Company Inc.; Demerara Timbers Limited;  Karlam South American Timber (Guyana) Inc.; Wood Associated Industries Ltd; Kwebanna Wood Products Inc.; Sherwood Forests Inc.; Baishanlin Mining Develop-ment Co., Ltd. (2012); Baishanlin Real Estate Development Co., Ltd. (2012); Baishanlin Inter-national Shipmaking Co., Ltd. (2012); and Baishanlin Guyana Chinese Products Mall (2012).
Bai Shan Lin also has an ambitious investment plan to develop its holdings in Guyana, which includes a 20-kilometre river gold mining concession, a 5km2 construction area for a Guyana-China Timber Industry Economic and Trading Cooperation Park and 400-acres land for real estate development.
Minister of Natural Resources and the Environment Robert Persaud says Bai Shan Lin has guaranteed that the majority of logs harvested would be for local processing since its planned wood processing facility would need a steady supply.
Around the Web