Members of the Georgetown Chamber of Commerce and Industry yesterday met with Minister of Labour Nanda Gopaul to iron out issues as it pertains to the implementation of the national minimum wage.
The national minimum wage order takes effect from July 1st with employers being mandated to pay at a minimum to their workers $35,000 per month.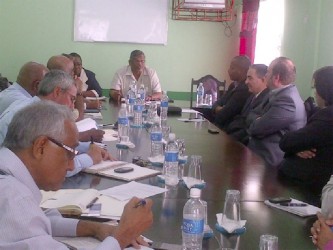 "The Chamber sought clarifications on a number of issues relating to the order," a release from the organization stated. It did not specify which issues needed clarity.
It said that next week the minister will continue his engagement with the body when he meets with members of the private sector.
While the Private Sector Commission (PSC) has said that it welcomed the new national minimum wage  it has voiced concern at the short notice of one month to implement the order.
According to a statement on Tuesday from the PSC, for many employers, including security firms and exporters who have contracts with foreign firms, the lack of adequate notice means that they would have already negotiated contracts based upon the old wage rates and would not be able to renegotiate those contracts.
The release said that a number of employers, particularly those in the garment industry which have to compete with such countries as China, Bangladesh and the Dominican Republic, are now faced with the prospect of laying off workers in an effort "to avoid the collapse of their businesses."
The PSC said that the country could ill afford to have workers being laid off at this time and advocated that bidders should at least be allowed to renegotiate government contracts.
The release pointed out that another concern of employers was the new provision for the forty- hour work week to be restricted to five days.
It said that most employers have been complying with a forty-hour work week but spread over a five-and-a-half-day week.  The PSC said that for many employers the new order meant that work on Saturdays would no longer be an option which would lead to a cessation of operations on those days.
Around the Web