A teen is in critical condition at the Georgetown Public Hospital Corporation after being shot several times in the abdomen.
Eyewitnesses say that 17 year old Quinn Neblett was shot in the abdomen by an off duty police officer at approximately 9:10 pm last night at Lot 21 Hill Street, Albouystown.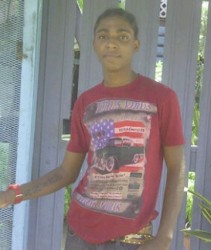 Neighbours told Stabroek News that earlier in the day Neblett and a friend were attacked by an off duty police officer in the vicinity. Another young man had stabbed the officer with a makeshift knife in a building under construction and Neblett had grabbed a piece of wood and went in the building after his friend was attacked by the officer. "After he see dah blood he run because he aint wan no part of duh," one neighbour told Stabroek News.
The neighbour stated that this incident happened earlier in the evening and a police patrol had come back looking for the boys. "Not Quinn, the police see he again on the corner and they come out an scrambling they know it wasn't Quinn that jooked the officer," the neighbour stated. "That thing was rapid fire, rapid fire I can't even say how many shot, but rapid fire," the neighbour recalled. Stabroek News learnt that Neblett was chased by officers and was shot. Neighbours stated that the police pulled Neblett from the Hill Street lot and he was taken to the hospital.
Neblett's brother and mother were on the scene trying to piece together what transpired. Neblett's mother stated that she had sent her son to buy bread earlier in the evening and that was the last she saw him. She was in a state of shock telling Stabroek News that she was just trying to process what happened and why the police would shoot her son.
At the scene there were droplets of blood trailing from the street to a second house in a three-house lot.
The resident of the adjacent lot stated that she wasn't home at the time of the incident but the blood showed the path that Neblett ran to get away from the gunfire.
Police this morning issued the following statement on the incident:
"At about 1830h. last night Thursday June 20, 2013, Police Constable 21510 Thorne, who was dressed in civilian clothing, was attacked by three men armed with knives during a robbery attempt at Hunter Street, Albouystown. Constable Thorne put up a resistance during which he managed to escape but was wounded to his right arm and left leg. He was treated at the GPHC and sent away.
"Later, at about 2115h. last night while being taken home in a police mobile patrol vehicle the suspects were seen at James Street, Albouystown, by Constable Thorne. As the police ranks approached the suspects they ran in different directions and were pursued on foot by the ranks.
"Constable 21148 Wilson caught up with one of the men who attacked him with a knife and wounded the Constable to left arm. The rank was forced to resort to the use of force and discharged two rounds at his attacker which struck him to his left leg and abdomen. The injured man has been admitted to the GPHC and has been identified as Quinn Neblett, 17 years, of Sussex Street, Albouystown.  Constable Wilson was treated at the GPHC and sent away."
Around the Web