The New Guyana Marketing Corporation successfully hosted its first Coconut Exposition yesterday, dedicated to Guyana's third largest agricultural product after rice and sugar.
Exhibitors ranged from grassroots to corporate vendors, with products from traditional to innovative. Bernice Trotz showcased coconut wine, which is a blend of fermented fruits with coconut water as the base. The Phoenix Enterprise product was introduced recently after "seeing the need for diversification," Trotz stated. She said, "We've been producing the coconut water and that is our flagship product, but this came as an offshoot and we are happy with it."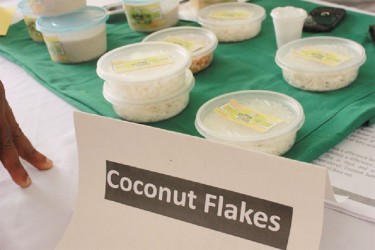 Many patrons made a beeline to Trotz's booth at the Coconut Expo, eager to sample the innovative product. She said that since the beginning of the day there had been a steady stream of curious Guyanese keen to sample the product. The wine is made using local seasonal fruit and Trotz listed many that Phoenix Enterprise would be adding to its flavours in the future and combining fruits. Trotz said, "We are using what's in season; jamun, guava, carambola, tangerine, plum we are using all of them and people are responding very well to how everything blends with the coconut water."
Local agro-processors, some from as far as Linden and Essequibo displayed and sold grated coconut, coconut flakes, coconut water, coconut oils, beauty products, soaps, wines, cakes and sweetmeats and from its shell, musical instruments, cups, jewellery, pot scrubbers and handbags. Oilrins of Coldingen Industrial Estate, East Coast Demerara displayed its cold-pressed from organic coconuts extra-virgin oil as did Ideal Life of Hampton Court, Essequibo and Lois Rickford who marketed her product as a beauty secret.
The Institute of Applied Science and Technology (IAST) is not only utilising coconut to make soaps, oil and beauty products, but has developed a range of coconut biodiesel products and hopes to find investors and financiers who could utilise the technology. Veenadika Persaud a research chemist at the IAST stated that the coconut biodiesel can be used in any diesel vehicle.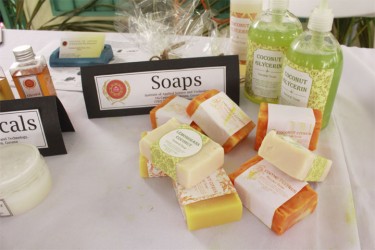 She said the by-product known as glycerol was further processed until it was clear and could be used as an additive in food or sanitisers among other uses. Persaud noted that the IAST was focused on research technology that could be used by entrepreneurs and that the host of products being designed was but a fraction of the uses for coconuts.
Persaud noted that roofing tiles which the IAST was manufacturing on site at the University of Guyana compound comprised 40 percent coconut and 55 percent recycled plastic bottles. She said that it was the IAST's aim to reuse and develop new ways to utilise current resources.
The Guyana Arts and Crafts Producers Association was also at the Coconut Expo showcasing that the husk and the shell of the coconut could also be used for everyday household items and costume jewellery.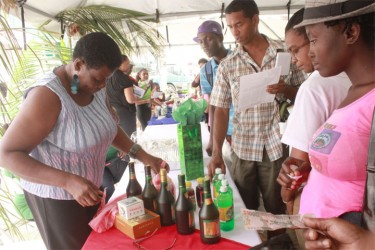 Around the Web