Habitat for Humanity Guyana (HfHG) is anticipating that land ownership issues may have to be addressed to maximise its project to construct a number of homes financed by a percentage of sales of various Edward B Beharry & Company products.
National Director of HfHG Rawle Small told Stabroek News "we will explore options with working to ensure that they do have the land this is where we will start". Smith said HfHG did not want to "jump the gun" as the NGO did have a good relationship with the Central Planning and Housing Authority, after Stabroek News asked how land rights or lack of land rights would impact the homes being constructed.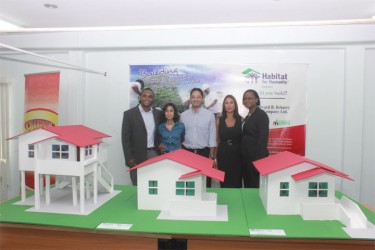 Small said, "one of the things we have realised is that there are a lot of families who have approached Habitat have basically used their entire life's savings to purchase land and they have a lot of difficulty in building or acquiring financing for a home".
He said there was a possibility that families might qualify for the project, but land ownership does become an issue, at which point HfHG will "put steps in place to ensure they get the land."
Beharry Chairman Anand Beharry told Stabroek News that by the end of June the percentage of sales going toward the 12-month project will be finalised. He said while the company has committed $14 to $28 million for the project, the notion of matching grants and a possible extension were also on the agenda. Beharry noted that without consideration of matching grants the project would result in the construction of 10 to15 homes.
During his speech, Beharry said, "We are today asking all Guyana to join with us in this amazing cause… All you have to do is have Champion chowmein for lunch or Indi curry for dinner, top it off with an after dinner mint from our Chico line of products and you will be helping to build a home for those who are less fortunate."
He noted that HfHG provides vital assistance for families without the financial capacity to construct homes for themselves. Beharry pointed out that a home was a future for development citing that when children are given a safe environment to prosper they take education seriously. Parents, he said could breathe easy knowing they had a home which could be passed down to future generations.
Once the families and locations are selected, HfHG will commence the construction of homes simultaneously using volunteers including Edward B Beharry & Co Ltd staff. The NGO averages that a single home can be constructed in 52 days, but since the houses will be built simultaneously, construction may take just six months.
Around the Web