A great-grandfather is dead after being struck down by a Police Cadet Officer driving his patrol car along the Better Hope Public Road, East Bank Demerara early yesterday morning.
Canerjit "Eddie" Sanichar, 71 years of Lot 52 Zahora Street, Better Hope, East Coast Demerara attempted to cross the road when the officer accidently struck him.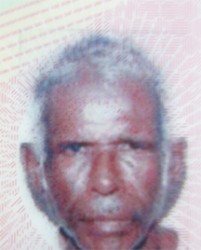 Family members told Stabroek News that Sanichar was a lifelong fisherman and he was already beginning his day when the accident occurred at approximately 4:20hrs. Sanichar's sister said that the officer drove her brother to the Georgetown Public Hospital Corporation, "he took him as soon as it happened to the hospital, but he died in the next half hour or so, it is all very sad for us."
The woman said that she was shocked because her brother was very dedicated to his line of work. She said that he travelled the same routes every day and his death will be felt by his family and community. "Eddie didn't have problems with anyone you know he was just a nice man, he was a great-grandfather," Sanichar's sister noted.
The family has already begun preparations for Sanichar's funeral. His sister said that her brother "lived with me and my family. He has two daughters, one in Canada and one in France, his son is here so we going to wait for word from them overseas and then we'll know what we going to do."
Sanichar's brother stated that he was very sad as they worked together as fishermen their entire lives.
Around the Web