An Inter-American Develop-ment Bank investigation is ongoing into any misappropriation of funds channelled to the much-vaunted Citizen's Security Programme (CSP) in what would be a major embarrassment for the government if fraud is found.
The CSP has been one of the high-profile programmes of the Ministry of Home Affairs aimed particularly at making citizens feel secure and fraud in it would make a mockery of the programme and reinforce views that corruption is a serious problem in government business.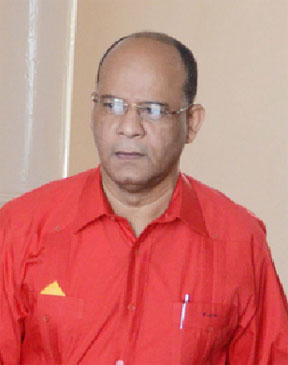 The investigation pertains to activities which occurred while the CSP was headed by  Khemraj Rai. He resigned quietly from the programme in March this year on the grounds of ill-health. His departure was not announced. Rai is one of those officials seen to be close to the government and had been given favoured positions. Prior to taking up the CSP post he had been attached to another  celebrated programme, the Caribbean Development Bank's Basic Needs Trust Fund programme. Rai has not been available to Stabroek News to speak about what he knows of the investigation.
"The Inter-American Development Bank takes all allegations of fraud, corruption and other prohibited practices involving IDB operations very seriously," Christopher Barton, the IDB's Caribbean Department Liai-son, told Stabroek News last week when contacted on the matter. Barton stated that the Office of Institutional Integrity (OII), which is an independent body within the IDB, would be conducting a thorough investigation. He said that "as is the case with all instances brought before the attention of OII, the scope and details of the investigation are confidential."
Stabroek News has learnt that IDB and OII officials were in Guyana for three weeks investigating the allegation at which point they spoke to various parties including the contractor who originally alerted the IDB to the alleged forgery of tendered contracts.
Minister of Home Affairs Clement Rohee addressed the issue at the unveiling of  the new Police Officers Training Centre at Eve Leary last Monday. He said that the GPF would have to wait for the IDB's official finding, but the Police Fraud Squad had been alerted to the alleged fraud involving the US$19 million CSP. He said that "I don't feel happy about it. It is not a good sign. It is just like if you are talking about corruption in the police force."
Rohee stated that his ministry was more than willing to hand over all records and files, "I also gave instructions that all the persons that needed to be interviewed for them to make themselves available". He added that the IDB team seemed satisfied with the access and assistance.  Minister Rohee did address the issue of transparency and noted that "People who are given certain responsibility to fulfill must do so professionally, it was on that basis that they are given jobs, because they were professionally qualified," and that when Rai stepped down from his post it was due to ill health and not the investigation.
Rai quietly stepped down from his position with no ceremony and was replaced by Anil Ramnauth. Stabroek News has made numerous attempts to contact Rai and was advised by a relative at his residence  to speak to his lawyer, Hukumchand Parag, who also has not responded to Stabroek News', repeated attempts at contact.
The contractor who blew the whistle told Stabroek News that back in March of 2012, he opened a joint account to tender for projects. He stated that it wasn't until July that he realized that the account was active and that over $7 million was deposited and cashed out from the account. "My contract was up with CSP and so (an official) told me we open this account and he will help me get jobs and we can tender, but then after I got hired on again with CSP for another four months I said I don't need the account and forgot about it," the contractor told Stabroek News. He said that when his contract as site supervisor with CSP was finished in July he decided that he would get his banking affairs in order so he could begin applying for tenders and it was then that he discovered the joint account was active.
The contractor stated that "I saw that seven million and nine hundred thousand and some more money and I needed to figure out what was happening". He said that in November he was "compensated" for not going public with his findings.
Stabroek News asked why he did not go to the IDB immediately to which the contractor refused to answer. He only said that "I was trying to figure it all out before I went to them". In January the IDB was notified of the activity. The contractor stated that prior to contacting the IDB he was approached to rectify paperwork and contracts for jobs he didn't have any involvement in. He said that he reported all of this to the IDB and in the subsequent months the IDB had sent him copies of the contracts for signature matching. The contractor stated that "they weren't mine. All the deposits into that account were in my name, but I never did any of them and then the contracts, that wasn't me."
He said that although he was hired as a site supervisor for the CSP he did work at a private business and worked in the capacity of a labourer while taking home a salary over $200,000 monthly.
The IDB has not put a hold on the CSP although an investigation is ongoing. The programme was approved by the IDB in 2006 and contracts would have been for the rehabilitation of various community centres. The US$19 million loan has a 10 year grace period and an additional 40 years for Guyana to repay.
Around the Web