Residents of Den Amstel, West Coast Demerara woke up to about eight inches of floodwater in their yards yesterday after a problem with one of the pulleys on the village's koker door prevented its closure during a pre-dawn high tide.
Although the floodwater started to recede by 7 am, more high tides were expected and residents feared a recurrence and worry about the effects on their farmlands and livestock. Residents were eventually given some relief last evening when they were told that the koker was fixed.
The Public Works Ministry had said that the highest tide during the current spring tides period—projected at 3.26m—was expected yesterday at 4.23 am and today at 5.12 am.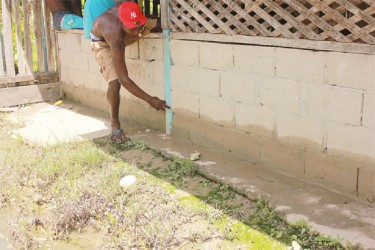 Den Amstel Resident Sharmaine Clark told Stabroek News that the sight of her flooded yard greeted her as she went to feed her chickens yesterday morning. "I wake up like 5 o'clock and now about to go and feed them chickens and when I buss the door is water in the whole yard. All in me backyard flood out," Clark said.
When approached, the sluice attendant, who asked not to be named, said that the problem with the door is a simple one that could be fixed easily. He did not want to cast blame but added that he has been calling on the relevant authorities to provide lights for the koker since it is difficult to see anything at night.
"We tried our best to close the door but nothing was working. We need boards for the door. If we had some wooden boards, this wouldn't have happened. The problem is the pulley, the left pulley from the western side of the door has a problem, and that caused the door to not close," the attendant explained.
Quacy Henry, another resident, said that the last time the village flooded there was a pump to get the water out but it was at Windsor Forest yesterday. "We got a Regional Chairman but it's like we ain't get one," he declared.
Henry added that the salt water is killing farmlands and what little livestock the residents possess.
Leroy James, who lives at 35 Back Street, Den Amstel, told Stabroek News that he woke up at about 3 am to use the washroom and he saw water everywhere. He said that the water started to recede at 7 in the morning. "I lose a big turkey to this flood. I coulda cook it yesterday if I know it would have died today," James said.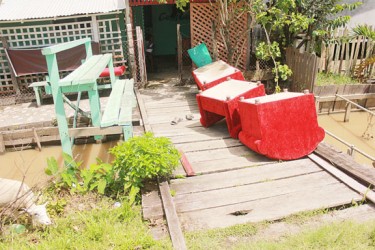 By way of a public advisory on high tides, the Ministry of Public Works' Works Services Group advised the general public to take all necessary precautions during the "spring tides period of June 21, 2013 to June 27, 2013.
"The predicted tide indicates above normal levels for this impending period," it noted.
According to the advisory, the Sea and River Defence Department considers the following areas to be "particularly susceptible to possible flooding as a result of storm surges" that may induce overtopping of sea/river defence structures: Onderneeming, Johanna Cecelia/Zorg, Cullen/ Perseverance, Huis t' Dieren/Airy Hall-Essequibo Coast; Zeelandia, Moor Farm, Marionville/ Bendorff-Wakenaam Island; Cane Garden, Blenheim/Endeavour, Success/Thierens-Leguan Island; Vreed-en-Hoop, Roterdam/ Crane, Anna Catherina/ Cornelia Ida, Groenveldt/ Leonora, Uitvlugt/De Willem, Parika, La Retraite-West Demerara, Salem/Sparta, East Bank Essequibo; Kitty, Georgetown to Ogle, East Coast Demerara, along the Mahaica River Banks – East Coast Demerara; Abary/Profit, Hope/ Washington-West Coast Berbice; and along the banks of the Berbice and Canje rivers.
In addition to these areas, the advisory said, all persons living along the banks of rivers and low lying coastal areas are advised to take all necessary precautions against possible flooding. It added that mariners, including those operating fishing vessels and larger vessels, should also take precaution. Further, use of breaches and foreshore areas for recreational purposes has also been cautioned against during this period.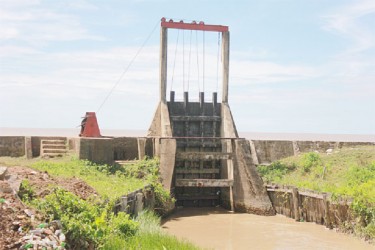 Around the Web