The Small Business Development Finance Trust (SBDF) of Guyana hopes to plough lots of cash into kitchen gardens to grow them into viable businesses but wants government to provide better agriculture infrastructure and management.
"We would like to see Guyana's agro-products on each and every dining table in Guyana and in the region. Transforming subsistence farming into commercial businesses requires industrialisation in our rural areas," stated Chairman of the Company, Sattaur Gafoor's report, which was presented in his absence at the SBDF's 10th Annual General Meeting at the Pegasus Hotel yesterday.
SBDF was established in 2002 as a non-profit organisation and later became a corporate entity in 2009. Its objective is to alleviate poverty among subsistence entrepreneurs and transform them into commercial suppliers, with eco-efficient practices of improving production and productivity. To date, it has created 6,715 jobs for persons across the country and has given over $1.9B from 15,113 approved loans.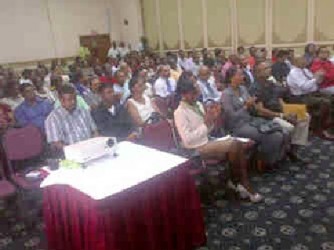 Managing Director Manjula Brijmohan, in her report to over 300 attendees at the meetings, reiterated the chairman's position.
She said: "We need government's support for agriculture through better drainage and irrigation systems and timely suitable mechanisms to obtain inputs at reasonable prices."
She added: "We are not looking for free handouts, but a system of managing the sector's requirements effectively. Similarly the manufacturing sector, the most crucial sector, needs clear aboveboard policies and the effective implementation of these in a timely manner."
Using a seed of the greenheart tree, which when properly treated has the capacity to grow over 160ft, as a visual aid, businessman Hamley Case held the attention of the audience as he urged small business owners to figuratively be the seed. "Small business in time can become huge businesses… the purpose of this seed is not to remain a seed, it is to grow into a greenheart tree and in the same way the small business should really develop into a medium or big business one day," he said.
Case made note of companies such as Banks DIH, Kissoons and Gafoors, among others, that emerged from humble beginnings as he also stressed the importance of being aligned with persons who can guide and advise the small business owner on a way to success. "Little trees have to be resilient as there are many challenges and obstacles to continuous growth… but in the right environment there is no reason why it cannot grow to 160ft," he said.
"The overall purpose and role of small business in any economy, is to grow into big business or at least a medium-size business, employing more people, selling more products making more profit," he added.
Case also urged entrepreneurs to think outside the box and always look to new ways of investment and continuous development of their products. Using the example of sweetbread seller 'Mother Ruby,' he took participants though the business's infancy (when she made only a few loaves at home for her family) to when she obtained a loan from the organisation and managed to grow to the point where she is now selling countrywide and in the United States.
Finance Minister Dr Ashni Singh reiterated much of what Case had told members as he also borrowed from 'Mother Ruby's entrepreneurial prowess to urge business owners to dare to dream and seize on investment opportunities.
At the meeting, several awards were also bestowed on SBDF clients. The award for Best Young Entrepreneur went to Maylene Pestano, who caters cakes and pastries and sells most of her foods at her Mandela Avenue outlet. The award for Best Female was bestowed upon Carol Barry, a mother of three who owns a grocery stall in Kitty. The Most Progressive Entrepreneur award went to Leon Binah, a joiner/upholster who one day hopes to supply major furniture stores in the country. Hermancal Ragubansie, a rice farmer who hails from Burma and Abary, won the award for Best Managed Agricultural Project, while Oma Devi Gouridat, a rice farmer from Mahaica won the award for Best Managed Project. In addition, Quason Liverpool, a baker, was honoured as Best Innovative Male Entrepreneur; Yvette Daniels, who sells cured meats in the interior, was honoured as Best Innovative Female Entrepreneur and Claude Benjamin, a farmer of diverse vegetables and fruits, won the award for Best Growth Potential.
Around the Web