President Donald Ramotar says that it is his hope that the reform process currently engaging Caricom's attention will yield a mechanism that is more proactive.
Delivering a statement yesterday in Trinidad on the occasion of the signing of the Re-commitment Document marking the 40th anniversary of the integration movement, Ramotar said that it was only with more "dynamism" that the community will be able to respond to the rapidly changing global environment.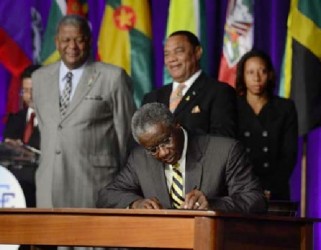 Citing a string of initiatives that have crawled along in Caricom, Ramotar said "the implementation deficit needs to be resolved lest we find ourselves guilty of a commitment deficit". For years, leaders within and without the region have been pressing for more effective forms of governance for Caricom particularly where decision-making and implementation are concerned.
The Caricom Heads meeting coincides with the 40th anniversary of the signing of the Caricom founding Treaty of Chaguaramas and while Ramotar hailed the historic event as courageous and momentous he failed to mention the names of the leaders who affixed their signatures to the treaty, one of them being late Guyana Prime Minister and Executive President Forbes Burnham.
Ramotar's brief remarks contained references to late former President Cheddi Jagan and immediate past President Bharrat Jagdeo but Burnham's name was not mentioned. The ruling PPP has been accused in the past of making deliberate efforts not to recognise the contributions of Burnham – a longtime nemesis of the party – even if it was in the international arena.
Ramotar said that today even though much has changed and some progress has been made, the need for integration is probably greater now than when the Treaty was signed years ago.
"The financial and economic crises that began in Europe and North America have impacted heavily on our region and clearly the need for us to have greater integration has become more urgent.
"This occasion while it calls for celebration, is also one for reflection and self-evaluation on whether we have been effective enough in our integrative efforts. As leaders we must ask ourselves whether the peoples of the region have benefitted fully from this process.  The implementation deficit is widely spoken about.  We must ask ourselves if there is a commitment deficit.  Let us recommit to reducing if not eradicating the implementation deficit which CARICOM now faces", Ramotar said.
He then referred to what late President Jagan had said in October 1992 at a Special Session of CARICOM Heads of Government "We have to work as a collective and consult our respective constituencies so that we march, not ahead or behind but together with our people".
Ramotar added "I submit that our people want us to march together. Those sentiments are therefore even more relevant today.
There is no doubt that the region has made progress.  We have established several institutions which we need to strengthen and we have taken many decisions.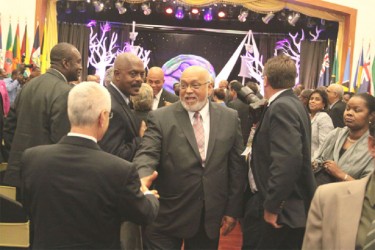 It is time for us to move the process forward with more vigour and more purpose. We have several studies and decisions for example relating to transportation, the regional financial architecture, the Jagdeo Initiative for Agriculture (named for former President Jagdeo); and the free movement of people and hassle free travel – which is vital and very important in helping us to strengthen our resolve.  We know that these measures will redound to the interest of the region and positively impact on the lives of our people. The implementation deficit needs to be resolved lest we find ourselves guilty of a commitment deficit."
He added that Guyana remains proud to be the seat of the  Community and he reiterated the country's commitment to its preservation and further consolidation.
"Let me end by paying tribute to the four founding leaders who displayed courage and foresight, qualities which this generation must adopt in realizing the dream of a united, peaceful and prosperous Caribbean", Ramotar said.
While Ramotar did not mention Burnham, the recently re-elected Prime Minister of Barbados Freundel Stuart did. According to the Trinidad Express, Stuart said yesterday the Caricom founding fathers "all understood that politics, whether local or regional, is ultimately about using power to make the lives of people better socially, politically and economically.
"They believed that their best chance of making the lives of our people better was by bring-
ing our countries much closer together in a relationship of shared aspirations, shared effort and shared resources," he said.
The Trinidad Express reported that the Barbados prime minister reminded the audience that "40 years ago, four distinguished heads of government of this region, summoned by the logic of history to be bold at that time, met in Trinidad and Tobago and signed what then prime minister of Guyana Linden Forbes Sampson Burnham said should become known as the Treaty of Chaguaramas.
Stuart added on that occasion, the host prime minister was then prime minister of Trinidad and Tobago, the late Dr Eric Eustace Williams.
He quoted Williams as saying: "There can be no new dispensation which does not mean the integration of the fragmented economies of the people of the Caribbean, by the people of the Caribbean, for the people of the Caribbean."
He added that 40 years later, "We, another generation of Caribbean leaders, have come to Trini-
dad and Tobago to celebrate 40 years of Caricom's existence, to reflect on battles fought and won, and to plan the way forward."
Stuart said the Caricom integration initiative "sprang from a deeper and even more important belief—that of the uniqueness and the special importance of our Caribbean region".
Stuart conceded that the regional journey had its challenges, which have tended to make the achievement of the region's goals more difficult, "but I contend that on any objective evaluation of Caricom over the last 40 years, it would have to be conceded that the people of the Caribbean, whether English, French, Spanish or Dutch-speaking, are more closely knit today than at any other time in the region's history".
"Whether we are talking about trade, transport, education, health, agriculture, the Caribbean Sea and the environment, culture, sport, politics or even marriage, our people across the Caribbean have shown a growing faith in the future of this regional space", the Trinidad Express reported him as saying.
In her address released by the Caricom Secretariat, Trinidad PM Kamla Persad-Bissessar said yesterday "There is a view that CARICOM, as it was originally envisioned, has reached its political, socio-economic and ideological limits. The reform process which is currently taking place in the Community and which is endorsed by all Heads, is a direct attempt to bring about the institutional and structural reforms which we all recognise are needed to make CARICOM more relevant in an ever changing global environment.
"In this regard, may I urge you to consider expanding our membership to welcome the Dominican Republic into the CARICOM family.  Perhaps, now is the time to also embrace the Dutch and French Caribbean islands. The Caribbean Sea unites us; it must never divide us.
"Our people remain resilient and unwavering in their embrace of the guiding principles and objectives of our Caribbean Community, which is why this meeting is so critical.
"Our agenda reflects an extensive range of issues including the peculiar challenges we face as Small Island Developing and Low-lying Coastal States (SIDS), given our size, remoteness, limited resource and export base, exposure to global environmental challenges and external economic shocks.
"Accordingly, a key point of our deliberations must be Regional Growth and Development, which forms a part of the preparation and readiness of the region's Five-Year Community Strategic Plan
We anticipate that we would have to establish a regional task force to deal with our strategic priorities in the post-2015 development agenda of the United Nations".
Around the Web