The Guyana Gold and Diamond Miners Association (GGDMA) believes that government concessions are urgently needed to help maintain viability in the mining sector.
In a statement, the organisation identified relaxation of import duties and taxes on new four-door pickup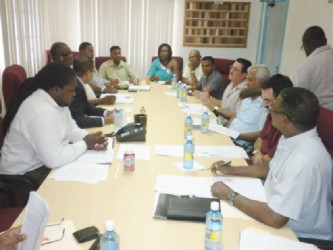 vehicles as one of the major concessions needed. It cited safety for workers including women miners who would usually have to ride in the tray of these pick-up trucks.
The GGDMA issued the statement after its newly elected executive led by its President Patrick Harding and including President of the Guyana Women Miners Organisation (GWMO) Simona Broomes met Minister of Natural Re-sources Robert Persaud, senior officials of the ministry, the Guyana Geology and Mines Commission (GGMC) and the Guyana Gold Board (GGB) on Thursday.
The aim of this meeting was to stress the GGMDA's call for some concessions and to identify additional measures to cushion the decline in the price of gold, the statement said.
Among the main issues discussed were price gouging and non-honouring of warranty by some major suppliers of heavy equipment. "The unavailability of foreign currency to miners who sell their gold to the Guyana Gold Board was discussed as an outstanding problem, more so since the miners need funds to import spares, etc, which will greatly assist their mining operations," the statement said.
It added that a mechanism for relief in the price of fuel was also discussed and a proposal will be presented to government soon.
"The programme of interior roads was also discussed indicating key roads and bridges linking the hinterland/mining locations, thereby greatly assisting miners to transport their equipment and supplies to their locations," the statement said.
The GGDMA also said that as a follow-up to the meeting, the organisation plans to meet President Donald Ramotar later this month to accelerate actions on the issues which were discussed.
The meeting between the GGDMA and the minister, GGMC and GGB officials is part of an ongoing agreement for monthly meetings to address issues in the mining sector, the statement noted.
Meantime, the organisation also identified its newly elected Executive Committee which comprises: Patrick Harding – President, Charles Da Silva – Vice President, Azeem Baksh – Treasurer, Terrence Adams – Secretary, Andron Alphonso – Organising Secretary. Dabria Marcus, Chunilal Baboolal, Terry Singh, Mahendra Persaud are committee members, with Alfro Alphonso, past president, the statement said.
Around the Web