Twelve new doctors have joined the ranks of the Berbice Regional Health Authority (BRHA).
A special graduation ceremony marking the official completion of internship for the 12 doctors, who spent a total of seven year studying medicine (six years in Cuban and one year in Guyana), was co-hosted by the Ministry of Health and the Cuban Medical Brigade on Thursday in the boardroom of the BRHA.
The doctors are the product of a partnership between the governments of Guyana and Cuba, in which hundreds of Guyanese were sent to Cuba on a yearly basis to train to become medical doctors. These graduates left Guyana in November 2006 to study in Cuba and returned home a year ago to complete their internships. They were specifically singled out of a batch of approximately three hundred trainee doctors to complete their internship in Guyana with the Cuban Brigade. Their colleagues will be returning to Guyana in the near future after completing their internships in Cuba.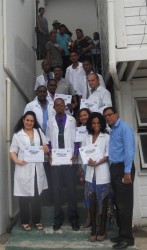 CEO of the BRHA, Dr Vishwa Mahadeo in addressing the graduates said, "Now that you have achieved, congratulations!"
Mahadeo cautioned them to not take on the persona of "god-like beings" or develop a superiority complex, but rather they should be humble in their demeanour. "We don't have the right to behave like gods – we don't have the right to believe we are higher or bigger than everybody else," he noted and went on to inform them that as public servants "the people who we treat are our masters and therefore a servant cannot be bigger and better than a master."
Meanwhile, the government of Cuba which facilitated the training of the doctors, received praise from the Region Six Chairman David Armogan, the guest speaker at the event. "I'm not ashamed to say this—the government of Cuba has really carried our medical system here in Guyana for a very long time, and we as a nation need to pay tribute to the government and people of Cuba for that kind of assistance they have given over the years," Armogan stated. "In fact they are now even empowering our own people to come back and take over the system that they were running for us many years. This nation owes the Cuban people a debt of gratitude," he further noted.
Those who successfully completed their internship and have graduated are Cerdel Mc Watt, Dedon Johashen, Ramnarine Jagnanand, Denise Erskine, Adrian Van-Nooten, Lionel Henry, Kalesh Latchminarine, Dinesha Alstini, Rayal Jhagru, Poornima Oma Persaud, Angela Henry and best graduating student Sandy Solomon.
Around the Web