A man is dead after he was badly beaten with a piece of metal at 10 Miles, Port Kaituma, North West District (NWD) on Thursday and police have arrested the suspect.
The dead man has been identified as Refford Williams, 26, of Kamarang.
A police press release stated that Williams, a miner, was involved in an argument with a man, during which he was struck about his body with a piece of metal at about 5pm on Thursday. Williams was later pronounced dead on arrival at the Port Kaituma Hospital.
Correen Williams, the dead man's aunt, said that her family learnt of his demise through a friend of his sister. She said that they learnt that her nephew was working in a mining pit when he got into an argument with another man, who began to hit her nephew about his body with a piece of metal which caused him to die.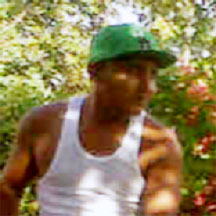 The woman also said that she heard that a few persons witnessed the attack and she could not understand why no one went to his assistance. She was also unsure what might have caused the altercation.
She added that when she saw her nephew's body, it appeared as though he sustained head injuries because his head looked deformed. His neck was also swollen, she said. His sister said that she spoke to Williams on his birthday, which he celebrated on Tuesday, only to learn that he died two days later.
Williams has been working in the mining industry for a number of years, his relatives said.
This is the second murder that has been recorded in the NWD in the past week. On Tuesday, around 10am, the decomposing remains of 18-year-old Gweneth Alexander was found in a shop at Tenapu. A post-mortem examination later revealed that she sustained a stab wound which punctured her liver. Her husband, who is the main suspect in her murder, remains at large.
Around the Web