Motorists were scampering for gasoline yesterday after shortages forced several dealers to temporarily suspend their operations, which officials expect to return to normal with the arrival of the first of three fuel shipments tomorrow.
Prime Minister Samuel Hinds on Sunday told Stabroek News that he was unaware of a shortage but disclosed that there was a delay in uplifting fuel from refineries in Venezuela.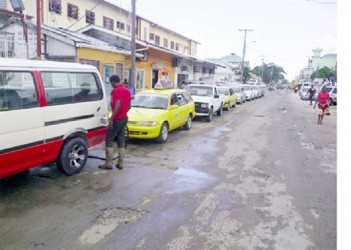 The scene at various service stations on Sunday and again yesterday, however, left no doubt that there was indeed a shortage as some stations were closed while drivers lined up their cars for extended periods, desperate to fill up their tanks. Some motorists said there were long queues at the pumps since Friday last as word of the shortage spread.
Some motorists were optimistic that the shortage would not last for long. Others said they were not taking chances and were filling their fuel tanks to capacity. Some also said they were only driving when it was necessary until the situation is resolved. "I have noticed the long lines at the gas stations since Friday night, I hope it does not reach crisis mode," one concerned motorist said. For commuters, the shortage has not impacted them as bus and car fares remained unchanged.
Both the Sol and Rubis gas stations on Vlissingen Road as well as the Sol gas station on Regent Street were out of gas and closed on Sunday. Also closed was Farley's GuyOil filling station on Hadfield Street, while the Kitty GuyOil station remained open but officials there indicated that instead of the normal three shifts, they expected to close after just two due to the gas shortage. When Stabroek News visited Farley's filling station on Sunday, its proprietor said that he was able to secure some amount of fuel from a storage facility in Berbice. This fuel, Stabroek News was told, would be sold yesterday although it was not expected to last long.
When Stabroek News returned to the filling station yesterday, motorists were forced to wait in lines for 10 to 15 minutes to purchase the scarce commodity. The urgency of the situation was compounded by the fact that the stock which the station was able to source from Berbice was not expected to last beyond 1 pm, according to the proprietor. The man added that he made a trip to the GuyOil storage facility yesterday morning to see if he would be able to procure additional fuel but was told that the shipment would not be arriving until Wednesday.
A visit to Rubis yesterday afternoon revealed that several of the filling stations which litter the city and its surrounding environs sent their trucks to purchase fuel from Rubis' storage facility at Providence. Trucks, which bore the Sol logo as well as others, lined up at the facility for as much as 30 minutes each as they waited for gasoline.
Several "bush trucks" with empty fuel barrels were also waiting in line. A Rubis official informed Stabroek News yesterday afternoon that the shortage being experienced across the country was as a result of issues with Venezuela's refinery in Curacao.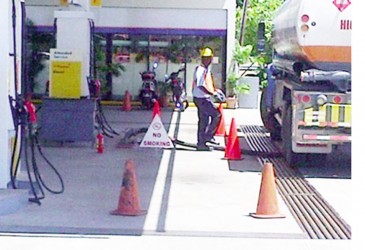 The official said that while all suppliers in Guyana purchase their fuel from the same source and are affected by the delay, Rubis owns and controls its own vessels, which gives it much more flexibility in shipping its stock.
As a result, he said, not only do the company's service stations have sufficient fuel to sustain their operations, but they also had enough sell to some of the other companies, including Sol.
The official added that though selling so much of its stock has reduced its inventory, they have ordered a vessel to remain in Venezuela to take on additional fuel so as to compensate for what was sold yesterday.
The shortage seemed mostly to affect GuyOil Service Stations. At the GuyOil station at Nismes, West Bank Demerara, it was confirmed that the facility had not received gasoline since Tuesday last.
The Sol gas stations, which were closed on Sunday and, according to motorists again early yesterday morning, were functioning normally when this newspaper visited these locations near midday. When this newspaper inquired of the shortage from management officials at the stations however, they refused to speak on the matter. Stabroek News did though observe that a fuel truck was depositing fuel into the service stations' underground storage tanks.
Another gas station, just inside McDoom, East Bank Demerara, opened for business around   6 am yesterday with the little fuel it had in its inventory but was forced to close by midday after this was quickly depleted by motorists who were desperate to fill up their tanks. Though employees of the Ross filling station in Ruimveldt refused to speak to Stabroek News during a visit, it was ascertained that the station was out of fuel, although it had just procured some amount of fuel, which was being deposited into its underground storage tank.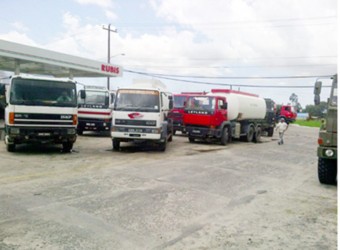 The Two Brothers Service Station at Eccles was unaffected by the shortage. The supervising pump attendant at this station said he had heard about the shortage, but said that the station was unaffected since it was supplied by Rubis.
In addition to the city, the East Coast and the West Demerara, the West Coast Berbice were not spared as the shortage forced the Fort Wellington Service station to close. A Sol station in Armadale, however, did have some fuel in stock and was open to the public yesterday afternoon.
Around the Web