A fireman lost his life when the car he was travelling in slammed into a utility pole at Bath Settlement, West Coast Berbice around 11:15 am yesterday; the driver and another occupant sustained injuries.
Linden Mc Calmont, 47, of Georgetown and formerly of Linden along with the two others was rushed to the Fort Wellington Hospital and succumbed while receiving treatment.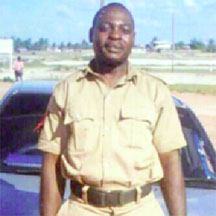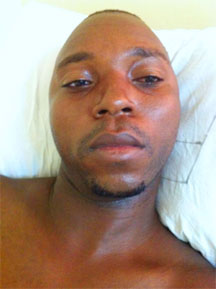 Melvorn Webster, 32, a carpenter of Hopetown, WCB, who was driving has been admitted a patient while the other occupant, Keith Bond, 56, of Grove, East Bank Demerara was transferred to the Georgetown Public Hospital.
Webster told Stabroek News they were returning from Rosignol when Bond who was asleep in the front passenger seat, jumped up suddenly and flung his hand in the direction of the steering wheel.
In shock by the gesture, he added, he lost control causing the motor vehicle to crash into the utility pole in the vicinity of a lumber yard.
This newspaper caught up with the Mc Calmont's younger brother, Dwayne Mc Calmont, his children and other relatives at the hospital last evening.
Dwayne said his brother travelled up to Hopetown – where they have relatives – for the Soiree on Wednesday evening in honour of Emancipation Day. He said he got the message yesterday around noon.
Mc Calmon's remains are hospital's mortuary awaiting a post-mortem examination.
Fire Chief Marlon Gentle told Stabroek News yesterday that he was shocked when he learnt of McAlmont's death and that it was only the day before that he was talking of his return as he had been on vacation overseas and had returned last week.
"It really shake me up because this is news I never expected.
I have known Mack over 25 years he was always a cool guy, my friend," Gentle said.
He explained that Mc Almont first worked with the Linden Constabulary  which was responsible for security and fire-fighting under the then Guyana  Bauxite Mining Company.
After the company became defunct and the constabulary was taken over by government, Mc Almont stayed on.
When Linden's first fire station was established Mc Almont was one of the first staff members.
He was later transferred to Georgetown where he worked up to the time of his demise as a Sub- Officer  in charge of  Stores for the headquarters.
Around the Web