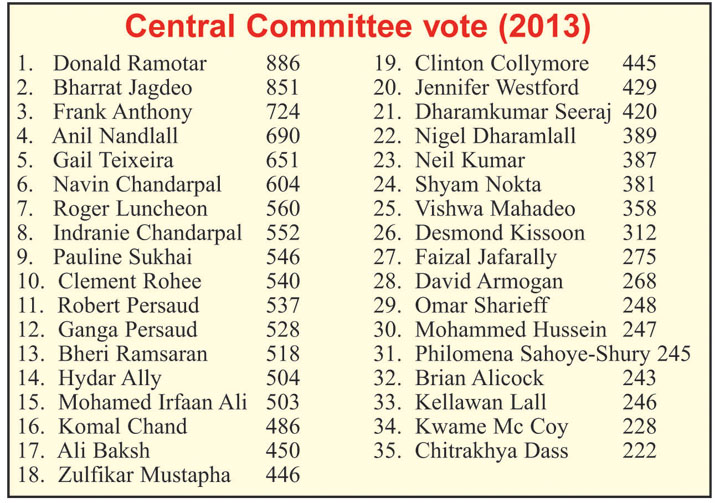 President Donald Ramotar managed to garner the most votes to the PPP's Central Committee but he was closely followed by former President Bharrat Jagdeo while party veteran Dr Frank Anthony retained the third place that he had unexpectedly clinched in 2008 and Anil Nandlall zoomed up the rankings to fourth place.
The results were officially released by the PPP yesterday at the conclusion of their 30th Congress in Port Mourant,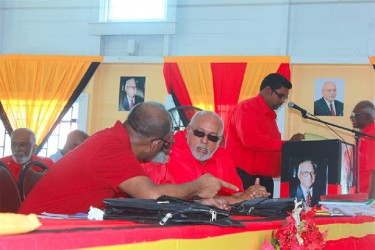 exactly five years after their last gathering at Diamond on the East Bank of Demerara.  Insiders say it is likely that Ramotar will retain his role as General Secretary while holding the presidency
The one-two finish for Ramotar and Jagdeo,  who was President for 12 years, will heighten speculation about a tussle between the two for control of the government's direction .
Ramotar's passport to the Presidency was founded on support from Jagdeo  to become the PPP's presidential candidate ahead of others including former Speaker Ralph Ramkarran.
Since acceding to the Presidency, analysts say that Ramotar has had a hard time shaking off the influence of the former President to the extent that he has hardly been able to fashion his own programme. Ramotar's Cabinet  in 2011 was almost a mirror image of Jagdeo's and also saw Jagdeo's nephew-in-law, Robert Persaud moved to the key portfolio of Ministry of Natural Resources and the Environment which holds responsibility for several of the marquee projects that Jagdeo had launched before the end of his presidency. This year's central committee list is also similar to the one from 2008 which may also be a reflection of Jagdeo's continuing influence at this year's congress, analysts say.
The analysts say that yesterday's results ultimately strengthens Jagdeo's hand further considering that the second place showing has been secured even though he is no longer President and has not had a role in government or a public profile in party matters.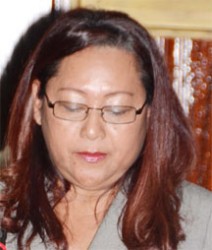 While, the credibility of the PPP's internal elections has been frequently questioned, analysts say that Jagdeo remains popular with the grass roots and would have gained significant support from the delegates.  The analysts note that Jagdeo's decision to accept the nomination to the central committee even though he is no longer President is a clear statement of his continuing interest in governance.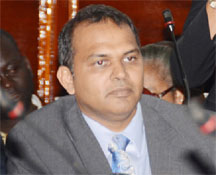 In 2008, Jagdeo had won the most votes at congress with 777 while Ramotar placed fourth with 637. Perhaps as expected, this year, Ramotar moved up to number 1 with 886 while Jagdeo fell to number two but with a figure even higher than in 2008, 851. Anthony remained in third spot with 724 compared to the 658 votes he got in 2008. Analysts see Anthony as a stalking horse who could be temporarily in the way of the next intended presidential candidate,
Though Minister Robert Persaud has had a high public profile and is seen as a popular party leader, he dropped two places this year from 9th to 11th and actually at 537 votes won five votes less than in 2008.
Nandlall, Attorney General and Minister of Legal Affairs has had over the 20-month life of the administration a very high public profile particularly in prosecuting cases against opposition moves to cut the budget, dominate parliamentary committees and gag Home Affairs Minister Clement Rohee. He is also a frequent guest on state TV NCN's programmes.  His vote moved from 436 to 690 in between congresses.
Also rising meteorically was Minister of Amerindian Affairs Pauline Sukhai from number 30 in 2008 with 309 votes to number 9 with 546 votes this year.
The two key government spokespersons Gail Teixeira and Head of the Presidential Secretariat Dr Roger Luncheon remained in the top eight except that Teixeira moved ahead. She garnered 651 votes this year compared to 558 in 2008. Luncheon's tally fell to 561 from 588.
Two longstanding proteges of the Jagans, Navin Chandarpal and his wife Indra also remained in the top 10. Navin was sixth with 604 votes and Indra eighth with 552. Navin Chandarpal had had a much-publicized row with Jagdeo in 2011 over the absence of secret balloting for the presidential candidate. Jagdeo's support for an open vote led to Ramotar winning the PPP candidacy.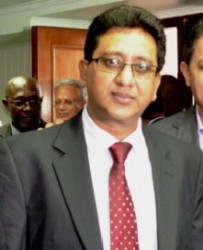 The list of 35 this year is noteworthy for the big names that are no longer there. Two of these persons, former President Janet Jagan and former Agriculture Minister Reepu Daman Persaud have passed away. Two others, Ralph Ramkarran and Moses Nagamootoo, both  of whom had been seen as potential leaders of the party and presidential candidates, had acrimonious partings with the PPP. Nagamootoo joined the Alliance for Change (AFC) just shortly before the 2011 elections after disagreements with the party leadership while Ramkarran decamped last  year after nearly 50 years of membership following bitter exchanges with party executives on his views about deep-seated corruption in the country. These losses have reduced the lustre of the party and analysts say the present committee would reflect perhaps the weakest lineup in the PPP's history and a reflection of its decline. Nagamootoo's exit also saw a loss of voting support in key parts of the sugar belt to the AFC.
Dr Moti Lall, a longstanding member of the party also passed away between congresses and other veterans who are not on this year's list include former minister Harripersaud Nokta, Shirley Edwards, Cyril Belgrave, Mitra Devi Alli and former Region Five Chairman Harrinarine Baldeo. Former Local Government Minister Kellawan Lall barely made it on to the list, coming in at 33 with 246 votes.
Making their debuts on this year's list are permanent secretary in the Ministry of Amerindian Affairs, Nigel Dharamlall, Office of the President climate change official, Shyam Nokta, Region Six Chairman David Armogan and Office of the President public relations official Kwame McCoy.
Also back on the list this year is party veteran and community organizer Philomena Sahoye-Shury.
While the votes were cast on Saturday the results were read yesterday during the closing ceremony of the Congress hosted at the JC Chandisingh Secondary School. When the votes were cast it was revealed that 1097 delegates were qualified to vote, however some had misplaced or lost delegate cards, which meant that they could no longer vote.
Mahmood Shaw, party member and government appointed commissioner of GECOM, had presided over the vote on Saturday stating that there was a total of 1599 ballots. However when the results were read yesterday morning no mention was made of the total votes cast nor how many spoilt ballots there were. It was also not revealed how many of the delegates were disqualified from voting due to the lack of proper identification.
From the 35 members elected to the central committee, 15 of those will be elected to the Executive Committee of the party when the Central Committee meets. It is expected that Ramotar will retain his post as General Secretary for the next three years until the next congress.
The five non-voting members elected were Colin Croal with 400 votes, Ronald Harsawack-223, Shiv Persaud-163, Sandra Baldeo-162 and Vishwam Bharrat-158.
Around the Web