The Ministry of Education yesterday announced the appointment of Doodmattie Singh as Deputy Chief Education Officer with responsibility for Development.
A release from the Ministry said that  Singh has extensive experience in education having spent 34 years of her life as an educator. The release said that she has  taught at all levels of the education system – Nursery, Primary, Secondary and Tertiary. She began her career as a Pupil Teacher at the Vergenoegen Nursery School and by 1985 was one of the few persons with a Class 1 Grade 1 Trained Teacher's Certificate in Nursery Education, the release said.
Singh has a Bachelor's Degree in Education – Teaching and Administration (Primary) and a Master of Arts Degree in School Management.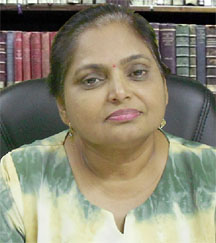 Singh also served as Administrative Officer in the Department of Education Region 3, District Education Officer 11- Region 3, Regional Education Officer Region 3, Regional Education Officer Region 4, and from 2007 to May 2013 she functioned as Assistant Chief Education Officer for all three levels – Nursery, Primary and Secondary.
Around the Web