The Sophia Training Centre two Fridays ago held its twenty-fourth graduation ceremony at the Carifesta Sports Complex for 94 students who completed its six-month training in several subject areas under the Ministry of Culture, Youth and Sports' Youth Entrepreneurial Skills Training (YEST) programme.
A release from the Government Information Agency (GINA) said that the YEST programme seeks to provide opportunities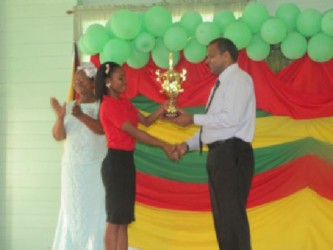 for youths to develop their talents in cultural activities, sports and confidence building, and entrepreneurial skills through practice, in order to become well-rounded individuals.
Sixteen students graduated in catering, five in handicraft, seventeen in information technology and office administration, thirteen in masonry, nine in plumbing and sheet metal, fifteen in refrigeration and air conditioning and nineteen in welding and fabrication.
The top students were Keisha Ajudia and Leon Simon while Rashawn Hicks was awarded the sportsman of the course award for scoring 13 goals.
GINA said that over the six months, the students aged 16 to 25 years were engaged in 65% practical work and 35% theoretical studies. They underwent an assessment examination, had to do several projects and a final examination. They were also offered remedial Mathematics and English, Health Education, participated in extracurricular activities such as indoor and outdoor games, were exposed to counselling and drama, and took part in the National Drama Festival.
Minister of Culture, Youth and Sports, Dr. Frank Anthony, said persons learn differently, some can read and remember and some learn through practical work. He said the ministry believes that it is making a difference in the lives of these students by providing them with practical training and then certifying them after the completion of their course.
The minister highlighted that the students of the welding class aided in the creation of the newly constructed 1823 monument, which was unveiled on August 5.
GINA said that Anthony encouraged the students to further their studies using the YEST programme as the foundation to their future and quoted him as saying, "If you don't take advantage of opportunities then you become the loser."
Anthony said that the ministry is working on promoting art and opening more schools even as it is offering training in museum science, anthropology and archaeology.
The ministry gives students an opportunity to qualify themselves through the YEST programme offered in three locations: the Sophia Training Centre which offers non residential courses and the Kuru Kuru Training Centre (KKTC) and Port Kaituma Training Centre which offer residential training.
GINA reported that an emotional mother of one of the graduates said she was proud to see her son graduate and have some form of qualification. She said she plans to encourage him to further his studies.
On July 26, the KKTC also saw158 youths graduating in the YEST programme that is conducted over a ten-month period. Since the programme began at the KKTC in 2000, a total of 1,885 youths have graduated, the release added.
Around the Web